I have
a Ducati 916
registered at the end of 1998, beautiful and very red. About a year ago, I put it up for sale (now I don't sell it even if they give me twice what I was asking for at the time) and since then I have been questioned about the model, which is still a 916, but on every reference, frame, booklet, silver tags on the frame is reported the name 916 S.
So it's an "S"? I also compared the power reported on the booklet with another 916, but mine has 8-9 more horses, the adjustable Showa front fork with tin carryovers, the Showa shock absorber and the Marchesini 5-spoke rims: in short, all characteristics that I found only on the next 996.
Giovanni
The Editorial Staff responds
Dear Giovanni, it is not uncommon for ducati to assemble specimens, especially those of the end of the series, with the components of the model that happens to them and this, based on the indications you have provided, seems to be your case.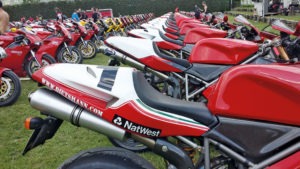 Il raduno si tiene ogni 2 anni e ha lo scopo di ricordare e di riunire tutte le creature di Massimo Tamburini marchiate Ducati.