I read with interest Gian Maria Liverani's article about the next Ducati racing season: I must say that I was very surprised by the ducati team's decision to bet on a rider like Marco Melandri who has shown, at least in recent seasons, that he is now without motivation and abundantly at the end of his career. I don't really understand the meaning, maybe there is something that escapes me: why not join that phenomenon of Davies to a young italian rider?
There are some very good ones, first of all I am reminded of Lorenzo Savadori who had a really good season with Aprilia. Among other things, this would make a young Italian rider grow up, replicating what happened, with unfortunately not always convincing results, with Davide Giugliano. Targeting a rider as Liverani pointed out, has already given, seems to me to be an unnecessary risk. Or is there something behind this choice that we don't know?
Gianni Ricci
The Editorial Staff responds
Dear Gianni, the situation of Team Aruba Ducati Superbike is a little special, as Aruba is not a simple sponsor of the official Ducati Corse Team for the Superbike, but a real partner: if all the technical decisions related to the bike, of course, are part of Borgo Panigale, everything that falls instead in the strategic choices, as well as the choice of riders must be shared with Aruba, which therefore has a say.
In fact, it seems that Melandri was precisely a choice of the Aretina company that probably saw an optimal choice to guarantee the return on its investment. However, we would not be so pessimistic about this: as Liverani pointed out in the article you mentioned, we are still talking about a rider that many consider a pure talent, although it is true that lately he has not achieved the sporting results that many expect from rider with his resume. To decide whether or not the choice was wise, however, a gentleman who is always right will take care of it: the stopwatch! We therefore await with curiosity the results of the first tests that Melandri will carry out on the Panigale.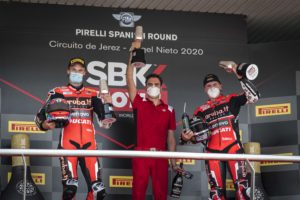 A Jerez de la Frontera, seconda tappa del campionato SBK, si ri-accende lo spettacolo con Ducati protagonista. Doppietta di Redding e secondo posto in gara 2 per Davies.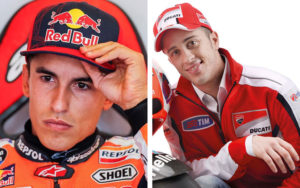 Che cosa farà la Honda in previsione di una prolungata assenza di Marquez anche nel campionato mondiale 2021?