As to me for his personal events, to almost all fans and /or owners of old Ducati, more or less glorious, but also to many fans of historical motorcycles in general, it is now known that there are considerable problems with the approvals of their loved ones and that this systematically causes great difficulties, if not rejection, when submitting applications for historical records, as well as during the annual review, for obvious differences not only in the size of the wheels, but often also in terms of general size, seating, brakes, etc.
As well as large rip-offs for the expansion of the phenomenon of motorcycles, tapered and built cars, for sale. This is because ducati, like in truth many other Italian motorcycle manufacturers, in the 60s and 70s, instead of homologating all the various versions of the motorcycles produced, speculatively used the homologations obtained for main models a little for all its production. It is also because, although there is a type-approval, or a type-approval extension, specific to a particular motorcycle, the chassis of the motorcycle was incorrectly marked with numbers of other type-approval, by the distracted worker in charge of beating it with punches.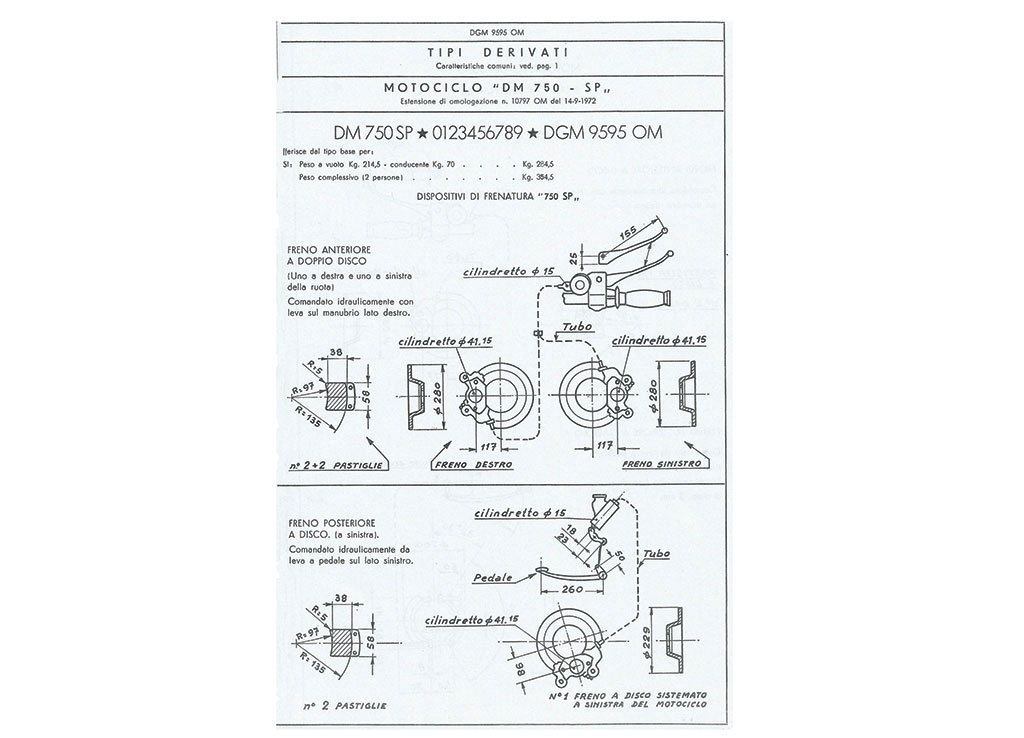 The most striking cases, apart from the one already known of the very few RT produced and sold with the approvals of scramblers of equal displacement, are those relating to all 350 Mark3,both normal and desmo-headed, which have been sold and still travel with the approval of the 350 Scrambler. Also many parallel twin cylinders Sport Desmo and GTV that, despite having their approval, today travel like their ancestor GTL, or all the single-seat desmo, 250 and 450, both silver and yellow drum and yellow disc, also without their specific approval (I do not mention the 350 cc version deliberately, because this turns out to be the only one of the single-seater Desmo to have it).
But the most striking case is that of the use of the homologation dating back to '61 of the 250 Diana, which thanks also to a homologation extension dating back to '64, relating to the use of a new five-speed gearbox, was used for any Ducati motorcycle with a displacement of 250 cc, narrow carter and wide carter, tourist and sports, motocross and Scrambler (including the wide scrambler carter produced in the first two years , until obtaining, only in the 1970s, their specific approval).
It is not a few dozen motorcycles, but tens of thousands of Ducati! It is to be mourned, not least because, to date, despite the efforts and good words, ducati has not been able to find an adequate solution that puts their Approval Office in a position to help all of us, and solve this problem. Finally, just to show that homologating the new motorcycles was the last of the problems: the 750 that ran and won beautifully in Imola in April '72, I believe (perhaps I am wrong?) that they certainly participated exceptionally in that race for prototypes strictly derived from the series, since the extension of the DGM9595OM type-approval, relating to the 750GT/Sport from which they derived, but from which they differed (so much so as to risk non-admission) in braking, the DM750SP (sport production), was obtained only five months later, in September 1972.
Ninni Pisciotta
The Editorial Staff responds
Dear Ninni, we fully understand what you have complained about, but imagine that the damage is now irremediable: after so many years, trying to reconstruct a historical truth after decades in which matter has been treated lightly and carelessly seems really impossible. We therefore believe that ducati's own difficulty in tracing the correct identification of vehicles from so many years ago is justifiable.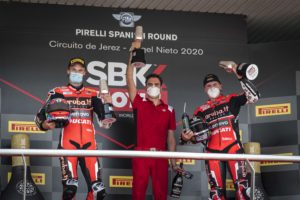 A Jerez de la Frontera, seconda tappa del campionato SBK, si ri-accende lo spettacolo con Ducati protagonista. Doppietta di Redding e secondo posto in gara 2 per Davies.

Una bella collezione che ci racconta una parte importante della storia Ducati con la Ducati 350 Mark 3D, la 350 Desmo prima serie e seconda serie conosciuta anche con l'appellativo di "Pallottola d'argento"