Kamira Takematsu has participated in numerous beauty competitions, so much so that four years ago she also won the title "Best Body Japan". After all, this is her job, as she is a model and presenter.
"I started as a model at the age of 18, to tell the truth, I was quite "round" so I started training and controlling nutrition: it took 5/6 years before I got the line I have today. During participation in beauty competitions I have always been quite strict, otherwise I am quite easy, I eat sweets and also drink alcohol, I train once or twice a week".
Now, however, Kamira has a new great passion: riding a motorcycle. Last year, in fact, a beautiful Ducati Panigale 899 entered her garage a real lightning strike for her!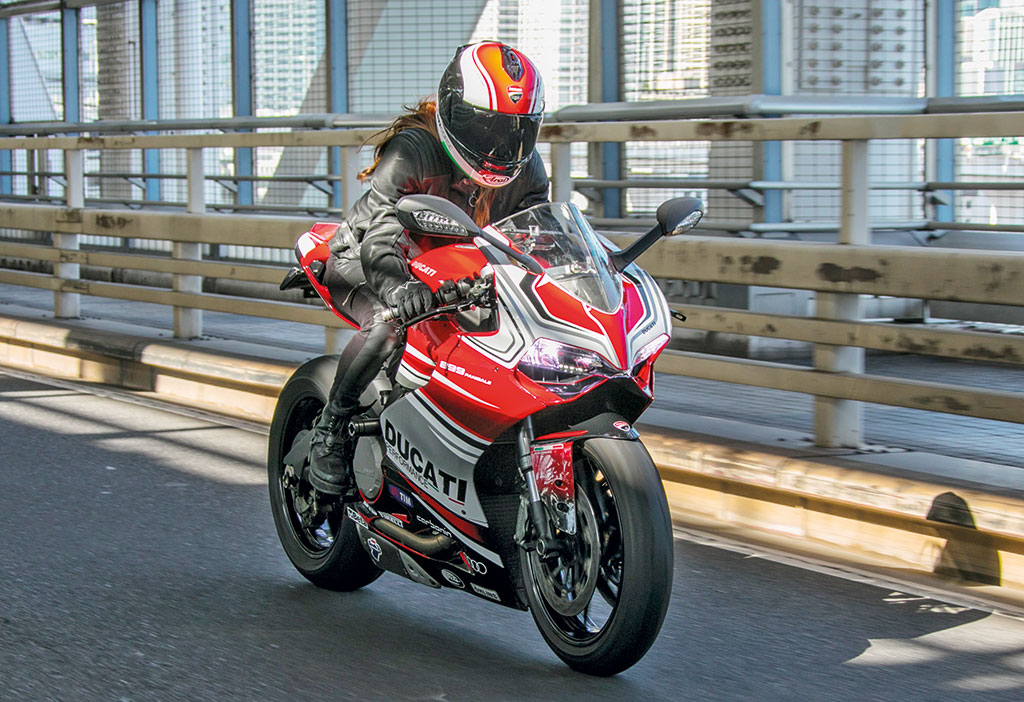 "Simply admiring the lines of sports bikes I wanted to try them, to drive them myself; so I prepared the exam for the license without limits (in Japan there are two types of license: one allows you to drive motorcycles up to 400 cc, while the other has no limitations, ed). After obtaining my license I drove a Honda CBR1000RR. It wasn't easy at first, I also lost my balance and fell off the ground, but after a bit of practice it was really fun. I then had the opportunity to get on many different bikes and it amused me more and more; I also liked road enduros, but in my mind I already had clear idea that my bike would be a superbike!".
Later, he also tried driving on the track,following a special course; on this occasion he met a Ducati owner, with whom he befriended. It was like this, a little by chance, if the beautiful 899 entered her life.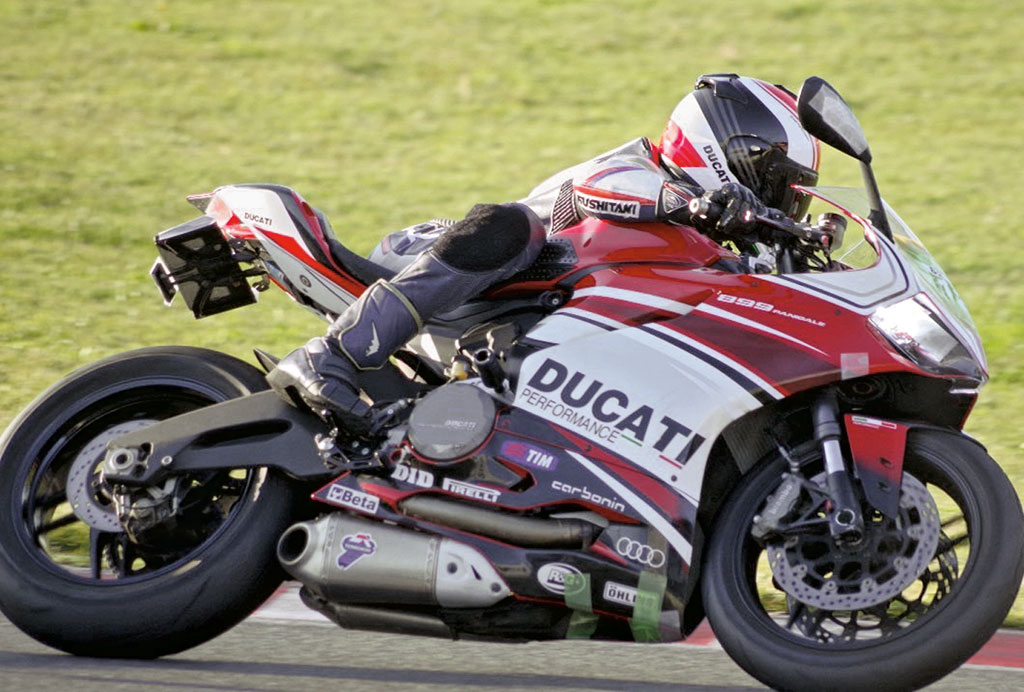 "I drive it once or twice a week, even in the evening; lap a maximum of one or two hours, then stop at the bar to chat about maintenance and special pieces (laughs)! At least once a month, however, I take a longer journey, although most bikers I know do not like to make long journeys, while I like the atmosphere of the gatherings, of the meetings with the other bikers. It's nice to talk about motorcycles with strangers, in freedom, without barriers".
Just to say what a girl she is, consider that her Instagram account has almost 40,000 followers!
" When I go for a motorcycle ride, I almost always takepictures, I'm used to doing them to myself, for my account,but lately I realize that there are more and more of them where I am with my bike! "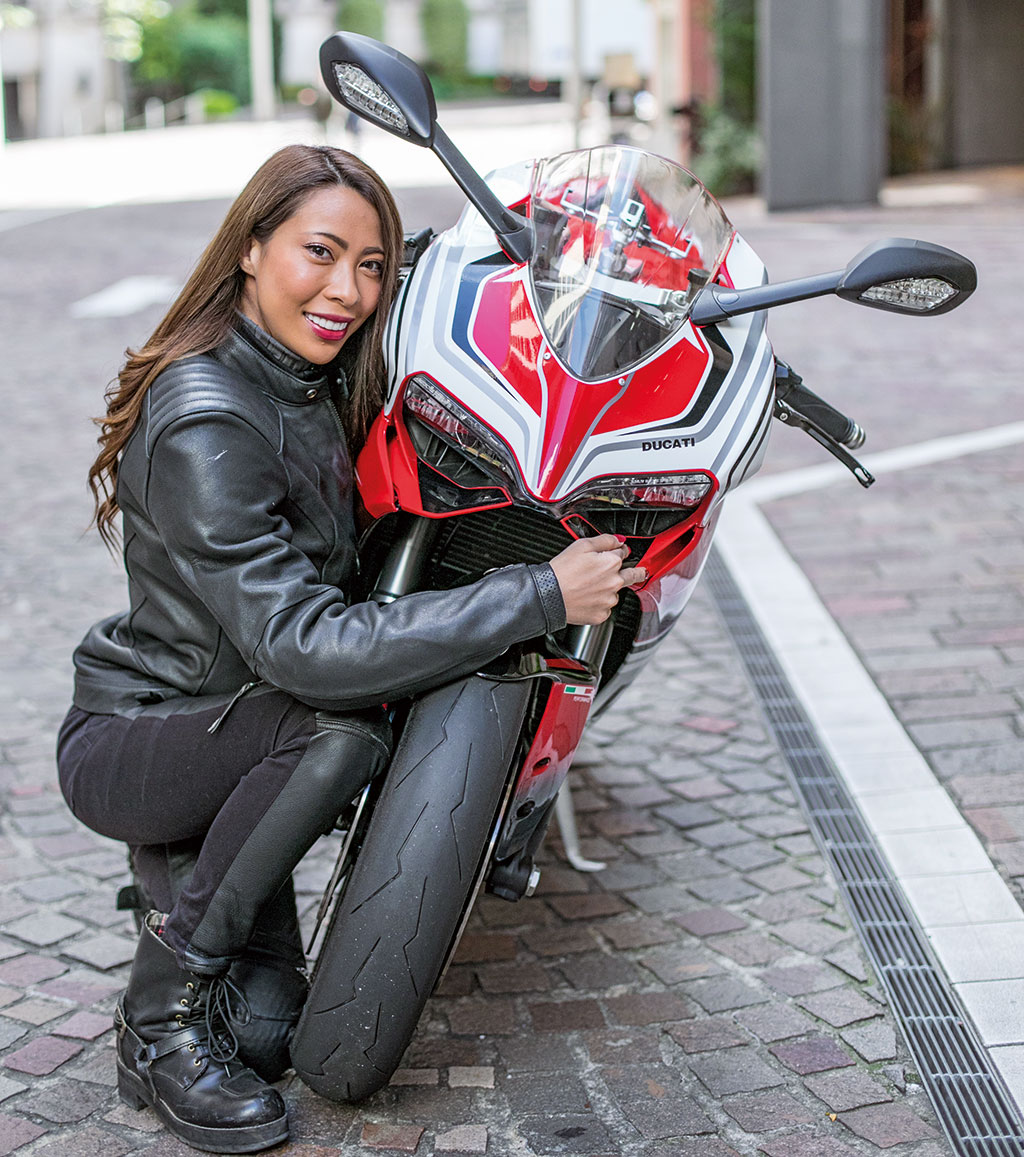 Of course, one thing is clear: since he leads panigale 899 his life has changed decisively.
"Before I had the bike, I was a little lazy on my days off, I was often at home, doing nothing; now as soon as I wake up, I look out the window and if the weather is good I always want to ride a motorcycle. Driving distracts me from work, tension, everyday life, gives me joy, made me discover another world".
What are your projects to be carried out on your bike for the near future?
"I feel like sleeping in sleeping bags, outdoors with friends, then I want to improve my driving. In the future I would like to go abroad with the bike. Maybe in Italy, why not? It would be nice to visit Italian art cities by motorbike. Then I miss the friendship of female bikers, I'd love to hang out with them".
But now that we're in winter, do you always ride your bike?
"Yes, I love riding a motorcycle. I bought the right clothing to cope better with winter, because I don't want to give up!".
A year ago Ducati was only a motorcycle brand for her, now the Panigale 899 is her inseparable companion: she has a special place in her heart.
Courtesy of Ducati Magazine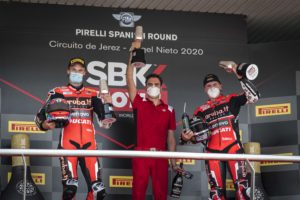 A Jerez de la Frontera, seconda tappa del campionato SBK, si ri-accende lo spettacolo con Ducati protagonista. Doppietta di Redding e secondo posto in gara 2 per Davies.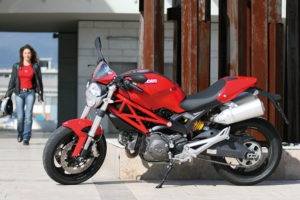 Il Monster 696 appare più piccolo e compatto del suo predecessore e questo si traduce in un'agilità nettamente superiore.