After a long wait even the Ducatisti in scale have the opportunity to own the Panigale and showcase it. The Tamiya on a 1/12 scale presented
the Panigale 1199 S
with the usual high quality standard. The box is very full with numerous printed, white plastics, clean and with really thin thicknesses, soft tires with perfect sculpting and numerous screws. The assembly is not really beginners with numerous parts to assemble with the many screws supplied; fortunately included in the box there is also the magnetized turntable.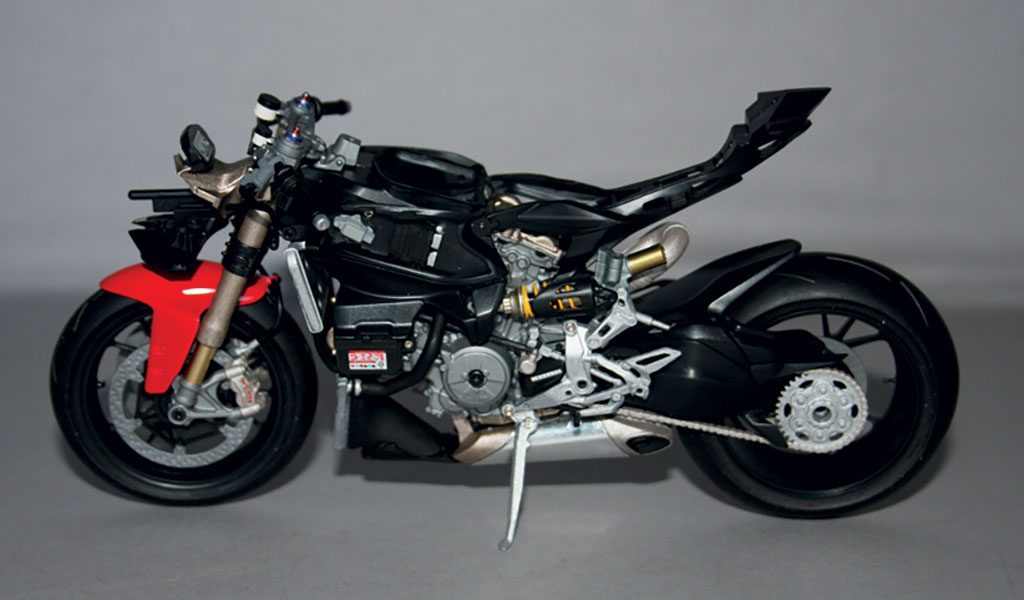 The painting of the various parts, following the numerous indications, is fundamental to best reproduce this model. Only the rear swingarm consists of 7 parts to which to add chain and crown. Continuing the assembly you arrive at the grand finale of the fairings, couplings with perfect joints and definitive fixing with screws. For the most demanding, Tamiya has on the list a kit of accessories dedicated to the metal Panigale consisting of rear suspension, brake discs and front suspension registers. A model that can not be missing in the collection of every Ducatista-Modeler.
Massimo Moretti

The Editorial Staff responds
We warmly thank Massimo for the report. After all, being a test model and a sincere Ducati enthusiast, who better than him to advise and inform all followers of scale models? An excellent solution even for those who, obviously for reasons of space, have no way to get the Panigale on a 1:1 scale!