I have just seen the new Monster and I have to say that, as a monsterist of the first hour, I was rather hurt; the bike, from the point of view of design, it seems to me that it lacks personality, so much so that it is difficult to distinguish it from similar models put on the market by other brands.
Wouldn't it have been better to keep certain hallmarks that made the Monster one of a kind? Then, also from a technical point of view, all the references to history are missing, first of all the javeles frame; again, could they not be more careful and propose a bike even historically more relevant to the great tradition of what was the first naked?
Of course, then it will also be a valid bike, I certainly do not question it, as Ducati has accustomed us lately, but even the eye wants its part, not to mention the passion of us Ducatisti!
Eugenio
The editorial staff responds
Dear Eugenio, in fact much has been read around about the not always optimal welcome that the Monster has had, Giusto Terzini also talks about it in his article on the new Monster Ducati. In fact, for the design, it seems that in Ducati they have been attentive to tradition.
We read in fact in the press folder that "… the new Monster has the distinctive elements that characterize this model: the "bison back" tank, the circular headlight "embedded in the shoulders", the clean tail, the engine in the center of the scene. Shapes evolved in a modern, sporty, elegant, sophisticated and technological direction".
Of course, then this is a slippery topic, in the sense that from an aesthetic point of view everyone has their own sensibility, the famous de gustibus! But also from a technical point of view, then, the tradition seems to us partly confirmed, in the sense that the first Monster was nothing more than a supersport without fairings, with its beautiful brat frame; so even the new Monster "wears" the Front Frame, inspired by that of the Panigale V4,a short frame, in aluminum, fixed directly to the heads of the engine.
What matters most, as always, are the dynamic skills of the new model; we therefore await the monster test to see if they have centered in Borgo Panigale!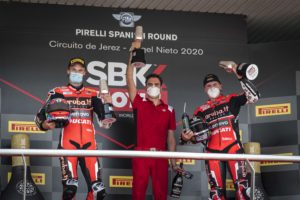 A Jerez de la Frontera, seconda tappa del campionato SBK, si ri-accende lo spettacolo con Ducati protagonista. Doppietta di Redding e secondo posto in gara 2 per Davies.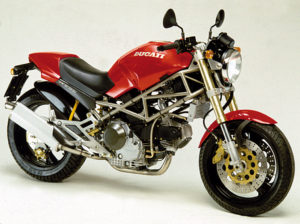 La storia del Ducati Monster, uno dei progetti di maggiore successo della casa di Borgo Panigale, attraverso tutti i modelli dal 1993 ad oggi.