Already two years ago we had proposed an internal comparison to the Ducati superbike family (see link below): at the time, the issue concerned the Panigale V4 and the 959,or the only one left, apart from the very expensive and limited number version of the 1299 Final Edition, between the twin cylinders in the specific sector.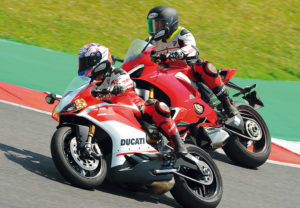 Prova-confronto tra la 959 Panigale Corse e la Panigale V4. Due superbike dal carattere completamente diverso testate su strada e su pista.
Today we are once again challenging because many things have changed in the last two years; the 959 gave way to the V2 which, even visually, highlights the close relationship with the older sister.
But even on the four-cylinder front you did not stand by and watch, with the arrival of a completely revised 2020version, now equipped with a lot of content inherited from the V4 R such as aerodynamics and its Front Frame, but above all for a different electronic management that should make it easier and more manageable.
But even the twin-cylinder is no joke , as evidenced by the enthusiastic comments of the press at its presentation: now, compared to the 959, it is more exploitable and enjoyable for road use, thanks to a more comfortable rider saddle and the revised calibration of the suspensions, but also on the performance front it is no joke: its 955 cc engine delivers more power (+ 5 hp) and torque (+ 2 Nm) than before, reaching a maximum power of 155 Hp at 10,750 rpm!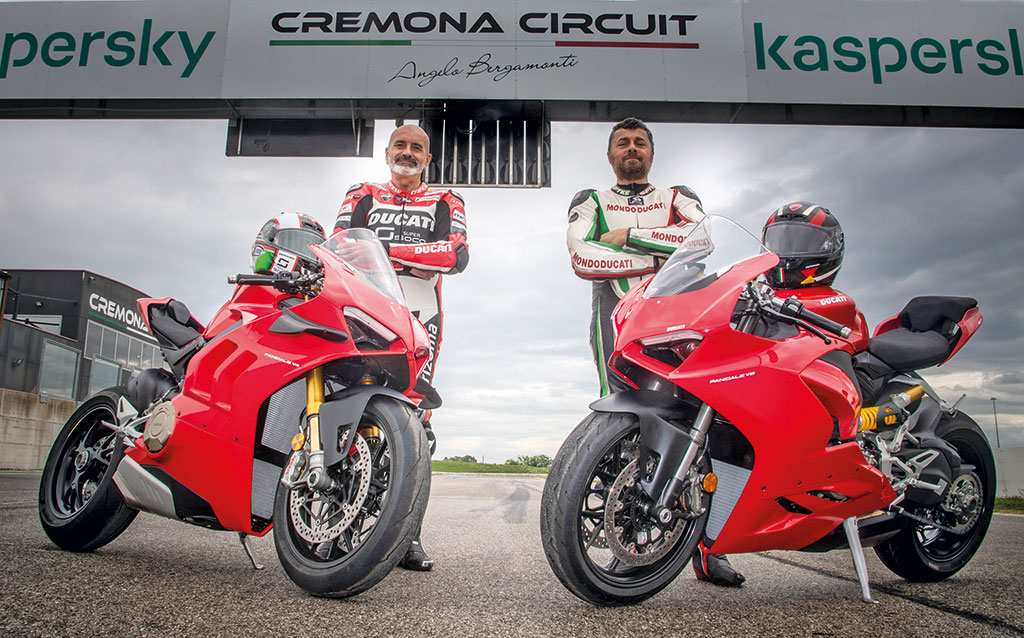 A very interesting comparison, therefore, for which we wanted to involve two experts from the Ducati world such as Dario Marchetti and Gian Maria Liverani,with the irreplaceable support of our "specialist" Giorgio Tedioli and a journalist of the caliber of Dario Ballardini.
In order to give greater importance to their sensitivities and judgments, we then decided to divide this comparative into two separate articles in which all the aspects that such a delicate comparison requires are addressed. All we have to do now is wish you a good read!
Cremona: the ideal circuit to try the Ducati
The plant where we carried out our test is the Cremona circuit,a plant particularly suitable for two wheels and which has in the process of implementation an important expansion project that concerns not only the track, but the entire structure.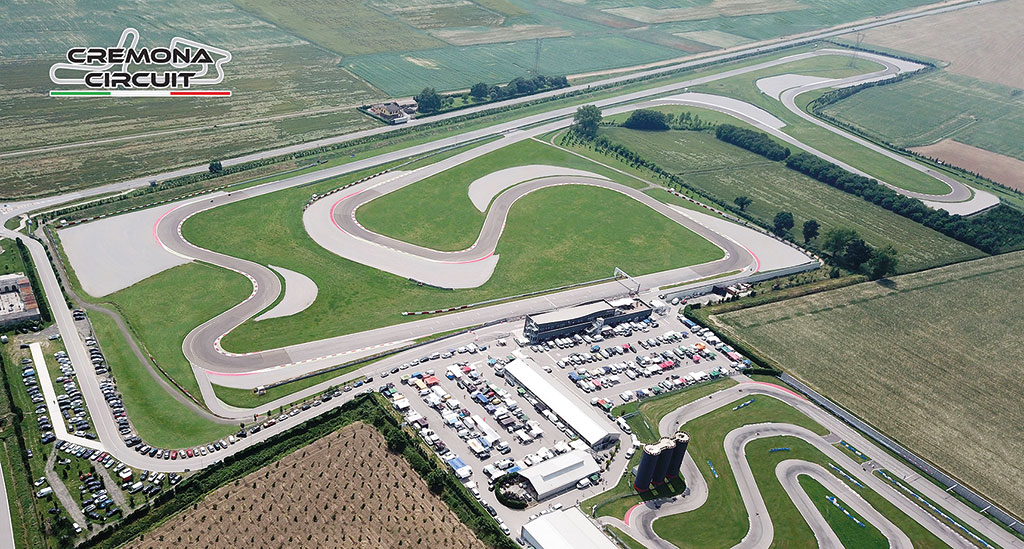 In practice, the track is lengthened, as do the pits (which increase from 10 to 26) and the size of the paddock, which will be five times the size of the hour. At the same time a grandstand will be built from where you can see the whole circuit.
In short, a real revolution of an autodrome that, as mentioned, is very appreciated by motorcyclists, with particular and curious preference of ducatisti,as confirmed by the administrator of the plant, Alessandro Canevarolo,perhaps because they are attracted by the presence of a long straight (almost a kilometer!) and by a configuration that makes driving even very powerful motorcycles fun.
Moreover, the Cremona Circuit focuses a lot on the Ducati public, also strong of a lucky geographical position that allows it to be a reference point for a very important biker basin. A situation that will become even more palatable in the new configuration.
The aim of the above changes is also to obtain approval from the IMF and to host motorcycle races as soon as possible, given that the starting straight will be longer and above all followed by a very wide curve that can be made in acceleration.
The Panigale V4 S at a glance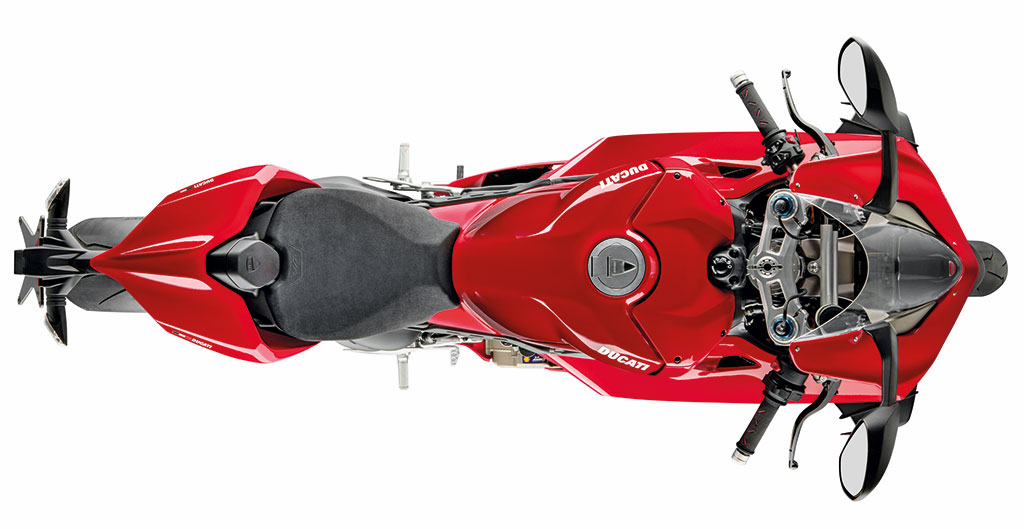 Colors
Ducati Red with Dark Grey frame and black rims
Main equipment
Aerodynamic package by Ducati Corse
Motor Desmosedici Stradale, 1103 cc
New logic of managing the torque request by the rider
"Front Frame" frame with Ducati Corse specifications
Magnesium front frame
Suspension and steering shock with Ă–hlins Smart EC 2.0 system
Ă–hlins NIX-30 fork with new calibration
Ă–hlins TTX 36 shock absorber with new calibration
Ă–hlins steering shock absorber
Marchesini rims forged in aluminum with total black coloring
Lithium-ion battery
Sports knobs
Latest generation electronic package with 6-axis inertial platform: ABS Cornering EVO; Ducati Traction Control (DTC) EVO 2; Ducati Slide Control (DSC); Ducati Wheelie Control (DWC) EVO; Ducati Power Launch (LPG); Ducati Quick Shift up/down (DQS) EVO 2; Engine Brake Control (EBC) EVO
Buttons for quick level change
Riding Mode (Race, Sport, Street)
16-liter aluminum tank
5″ full-TFT dashboard
Full-LED projector with DRL
Saddle with "V4 logo"
Two-seater configuration
Brembo Stylema single-block pliers braking system
Pirelli Diablo Supercorsa SP tyres with 200/60 rear
Predisposition for Ducati Data Analyser+ GPS (DDA+ GPS), Ducati Lap Timer GPS (DLT GPS) and Ducati Multimedia System (DMS)
Price Panigale V4 S
Euro 28,790
The Panigale V2 at a glance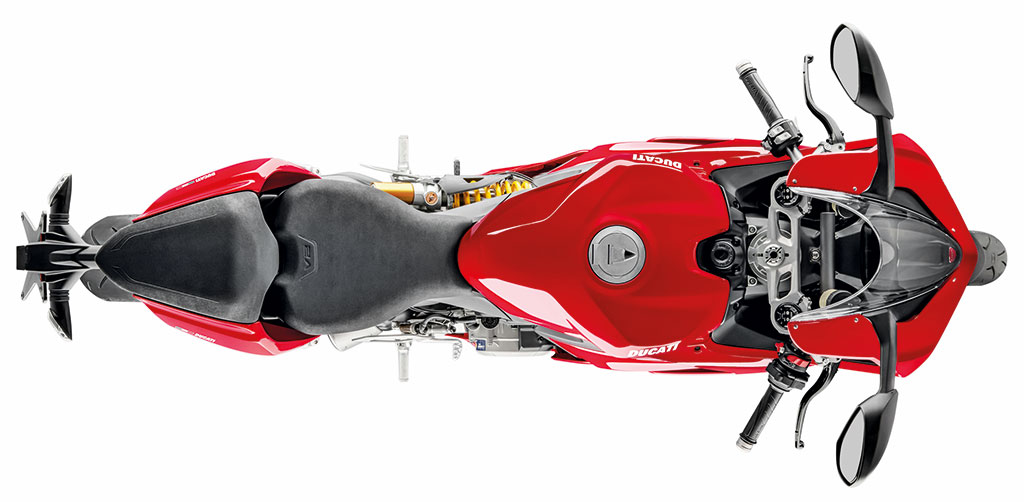 Colors
Ducati Red with black wheel rims
Main equipment
New aesthetics
Euro 5 homologated 955 cc Superquadro engine
Silencer under motor with single side output
Monoscot frame in aluminum
Aluminium single-arm swingarm
Showa Big Piston Fork (BPF) 43 mm, fully adjustable
Sachs shock absorber, fully adjustable
Sachs steering shock absorber
Electronic package with 6-axis Inertial Measurement Unit (6D IMU): ABS Cornering EVO; Ducati Traction Control (DTC) EVO 2; Ducati Wheelie Control (DWC) EVO; Ducati Quick Shift up/down (DQS) EVO 2; Engine Brake Control (EBC) EVO
Riding Mode (Race, Sport, Street)
17 litre steel tank
4.3″ full-TFT color dashboard
Full-LED projector with DRL
Two-seat configuration
Brembo M4.32 single-block clamp braking system
Rims with new 5-spoke design
Pirelli Diablo Rosso Corsa II tyres with 180/60 rear
Predisposition for: Ducati Lap Timer GPS (DLT GPS), Ducati Multimedia System (DMS), Ducati Data Analyser+ GPS (DDA+ GPS)
Price Panigale V2
Euro 17,990
In quanti modi può essere preparata una Panigale V4 R? Lo chiediamo a Marco Barnabò, team principal del Barni Racing Team.