In fact, the tug-of-war between the parties has been long, so much so that Dovizioso (pictured at the beginning of his Ducati adventure in 2013) at this point is in serious danger of being left without a motorcycle for next year.
As he himself said, he does not care much, he is also willing to stop if he does not find a situation that interests him, the famous project.
The decision then had the curious coincidence that, given the absence of the monster Márquez, the Dovi is one of the most serious suitors for the conquest of the 2020 title: a situation that if it happened would certainly embarrass the Ducati summits who will find themselves celebrating a rider who in fact have fired!
Of course, such an opportunity will not happen to Andrea so often; the absence of the rider, the real abattoam of recent seasons, so much so that it is almost invincible, and the good continuity of results that its Desmosedici offers him (perhaps not a lightning bolt of war, but very constant even on circuits on which he has often struggled) really leave open a very interesting window, especially for the panorama he offers: to become MotoGP world champion after so many years with the title won in the 125, would put Andrea in the olympus of riders strongest Italian riders ever.
But we don't want to bring bad luck to Dovi, the championship is long and the opponents are fierce, and we, let's be clear, cheer for him!
We do not do the all-rounder, we do not know all the reasons, of course the Ducati-Dovizioso divorce seems to us a mortal sin; for the Italian company because it lacks one of the most crystal clear talents of recent years, a rider strong rider, skilled in the development of the bike; so even the Forlivese, who now knows every vine of his Ducati, would only have advantages to continue on a path he knows very well, rather than embarking on an unknown path.
All we have to do is hope (vain hope?) that the classic Italian miracle will happen: an incredible reconcilation, perhaps on the wave of the results obtained this season, that makes us both glimpse that the best solution is to stay together.
Moreover, there are many human relations based on convenience, which in this case would be so great for both sides!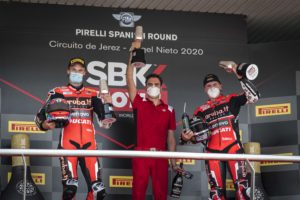 A Jerez de la Frontera, seconda tappa del campionato SBK, si ri-accende lo spettacolo con Ducati protagonista. Doppietta di Redding e secondo posto in gara 2 per Davies.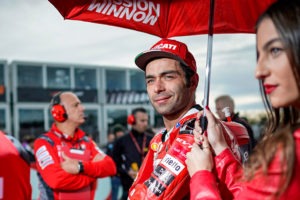 Petrucci ha la consapevolezza che se vuole rimanere nell'orbita del team Ducati qualcosa (o molto?) deve cambiare nei suoi risultati.