When, in 1973, Yamaha made its 2-speed 500 4-cylinder grand prix at the start of the Grand Prix motorcycle racing season, many insiders were skeptical about the chances of success of the revolutionary Japanese motorcycle, it was in fact the first time that Yamaha sided at the start of the queen class with a full displacement motorcycle (previously it had hit the ground with an increased 350) but above all it was the first time that a manufacturer deployed a 500 2-time expressly designed for the Grand Prix of the Grand Prix motorcycle racing season.
For a long time, until the early 1970s, there was a belief that the 2-speed engine was not suitable for "large" displacements, with particular reference to the queen class, the 500, a theory comforted by the fact that until then the 500, since the early years of the Grand Prix motorcycle racing, had been a reserved domain of the 4 cylinders /4 Italian times, Gilera first and MV Agusta then, with some interference of the English AJS in 1949 and Norton in 1951; at the time it was believed that the large 2-time single-cylinders were only suitable for Motocross where power and dispensing characteristics different from those of Grand Prix motorcycles were required.
Moreover, having had a free field, the two Italian manufacturers were not driven to experiment with alternative technical solutions.
The "conversion", which took place with the Yamaha OW20 entrusted to Jarno Saarinen in 1973 and which was brought to the title iridescent by Agostini in 1975, it had actually started a few years earlier or for some private initiative – we remember in particular the Konig of Kim Newkombe who in 1973 placed second in the world ranking behind Read and ahead of Agostini – and then from the first experiments of Suzuki and Kawasaki based on motorcycle projects as standard.
From that 1973 the history of the 500 class changed despite some attempts by Honda which, always faithful to the 4 times, put in place the bold but unsuccessful design of the NR oval pistons and only a regulatory imposition will revive the 4 times in 2002 with the introduction of MotoGP.
Justifying the 4-time debacle compared to the 2-time period it is right to remember that the introduction of the rule on the constraint to a maximum of 4 cylinders and the imposition of silencers on the exhaust set the wings at 4 times; to confirm this theory we remember that in the second half of the 60s the 4-time multi-cylinder Hondas fought on par with the 2 times of Suzuki and Yamaha.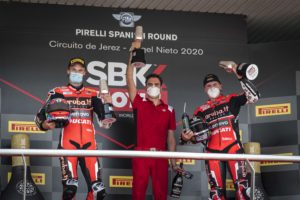 A Jerez de la Frontera, seconda tappa del campionato SBK, si ri-accende lo spettacolo con Ducati protagonista. Doppietta di Redding e secondo posto in gara 2 per Davies.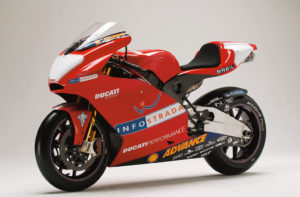 Ripercorriamo insieme la nascita della Desmosedici: la moto con la quale, in soli cinque anni, Ducati ha conquistato il tetto del mondo.