Luigi Dall'Igna, for all Gigi in the paddock, has been director of Ducati Corse since 2014. He is the designer at the center of a story that, as far as ideas, innovations and the ability to realize, is all Italian. It is a winning story worldwide thanks to characteristics such as genius and widespread creativity, commonlyrecognized as Italian peculiarities, but also thanks to other factors such as teamworking, accountabilityand organizational capacity, which are rarely included in the narrative of Italy (especially by Italy itself).
We could define Gigi Dall'Igna, the Ducati and more specifically Ducati Corse drawing on the well of rhetoric, but perhaps it is less obvious to say something much simpler: you can constantly fight for victory in the two world championships MotoGp and Superbike – the only home in the world in recent years, despite its size – and at the same time establish itself in the most important national championships only if you run an organization that works well, very well!
Then the successes are also made of many surprises pulled out of the cylinder, which we like very much, but the commitment and ordinary work behind all this tell us about an Italy that is perhaps told too little, and of which the ducati corse director is the protagonist.
Italy in this period is facing one of the most difficult tests in its history, due to the Covid-19 health emergency.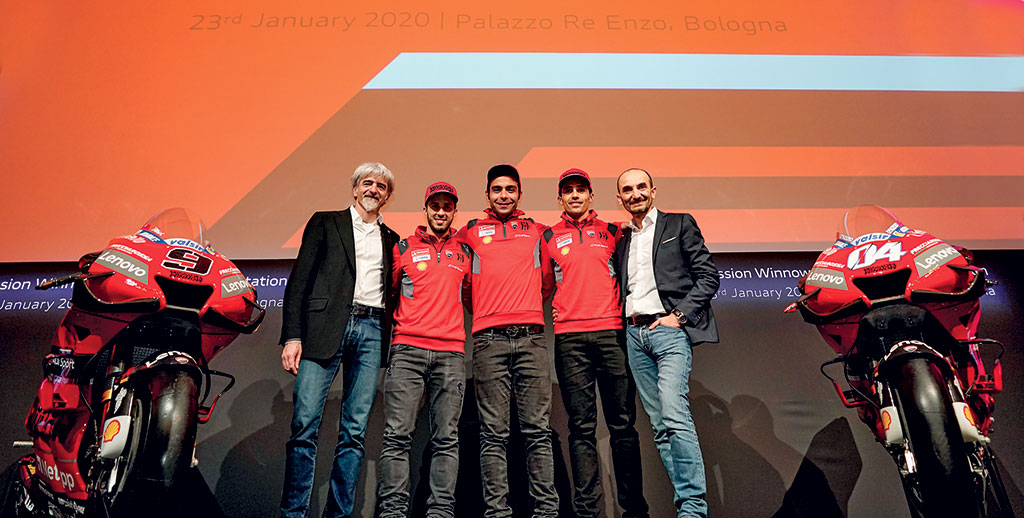 We ask Gigi Dall'Igna for an opinion, a thought, an emotion for this situation that touches our country so deeply.
"It is a very strange moment for everyone, because overnight we have changed our habits; it is strange especially for Italians, a people that lives on relationships, accustomed to being together, to thinking together. At the moment we are forced to live with a very small number of people and, even if they are the most important people in our lives, for the Italian people it is something inconceivable, not normal, difficult to carry on. That said, we are obliged to act like this because Covid is a bad beast and only isolation can make us take a step towards a solution, but inside of us we would like to return to normality and meet people, because we can hardly be alone. There are cultures in the world for which it is almost normal to be isolated, ours is the opposite: for us it is also difficult to express our qualities, this at least applies to Ducati. We are able to express all our imagination, all our group intelligence just when we are together, because it is by being in a group that the best ideas are born, and so the ideas that allowed us to win several races were born.".
How did you organize during this time? What have you been able to do, who has been able to continue working? How does a designer work from home?
"At Ducati, and in particular ducati corse, we are at the forefront of this, we already used smart working because a racing department is used to working around the world: these technologies had already been developed, otherwise during the trips for the races we could not carry on the work remaining in contact with the company. The whole design and design part has continued, although to a lesser extent, because it is a special period from an economic point of view and it is important to burden the company as little as possible; staff is a fairly important cost item, so we too have tried to minimize such activities. Then there are the most operational parts that gravitate around the test rooms or the track, for which we could do absolutely nothing: the activities of the races, evidently, but also those of the test team, the evolution of the engine, the deliberations of the various experiments, were stopped for the need not to go to the workplace. It must be said that not all parts of the world have been affected in the same way by the emergency; Italy has had a very important impact, while in other countries such as Japan – where our rivals are basically located – the activities of the rehearsal room and development on the track have never stopped".
What will Phase 2 look like? Who will start again first and which sectors will have to accelerate the most at the beginning? Who needs to make up the most time?
"For Ducati it will certainly be important to start again as soon as possible especially with the production because, however and fortunately, our brand is so important that our bikes are requested even at this time when everything is stationary. Then, of course, we too will have to start again, as far as the races are concerned; all sport has stopped and I think it is important to start again, especially with sports that do not involve physical contact between athletes, because it is a sign that we can return to normality, it is a sign of hope that at this stage it can be really important, perhaps necessary".
Let's try to quantify the size of this emergency for Ducati, Ducati Corse and the motorcycle sector in general.
"In my opinion, we have still not been able to understand the scale of the problem, because we are now focused on the health part, which is by far the most important part; once we have been able to approach this type of emergency, however, there will certainly be another one, namely the economic one, because the growth estimates we face are really difficult to bear for many economies, for many companies and also for many teams. In future, costs will be absolutely important, everything will have to be done to keep them under control, to try to survive. I believe that 'surviving' is precisely the most important term to use, survive economically and then strengthen and grow in the years to come. In the next two years, I believe that we will have to focus so much, if not almost everything, on reducing the costs of this sport.".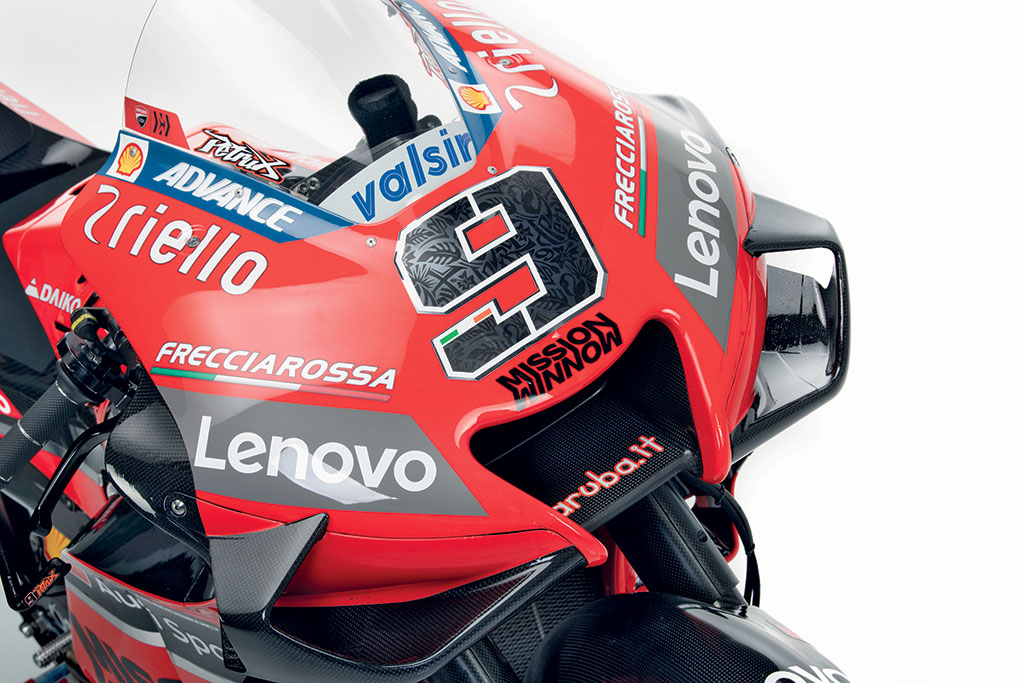 Will there be irreversible changes for motorcycling and motorsport? Have these been weeks in any way fruitful to get an idea of what the future will be?
"There have been many contacts with all the manufacturers to look for ideas that serve precisely to contain costs in the coming years. I believe that all the proposals that have been made are reasonable and I believe that they are all somewhat provisional. I don't expect so many proposals to stay in time, but they will certainly be important in the next couple of years to try to get back on the right foot and make this sport that we all love wonderful again".
In short, what proposals have been made?
"The proposals are to use this year's bikes also for next year, not only for satellite teams, but also for official teams, and to limit evolutions over the course of the season; one of our ideas was to use only one motorcycle per rider and, even if it has not been accepted at the moment, in my opinion it will be worth reassessing; there are many ideas that will still lead to a reduction in costs, both by manufacturers and by teams".
How would the 2020 MotoGP World Championship start under normal conditions? How were the tests of the Ducati team and the other teams running with the Desmosedici? The themes of winter were the holeshot, the new Michelins, the continuous search for cornering speed: where would we be?
"I have to say that I came back really happy with the Tests of Qatar, just before what was supposed to be the start of the World Cup: we had found a general setup of the bike that worked well, or at least in Doha it would have worked well. I am convinced of that, and I believe that it could have been a good starting point for the subsequent tracks as well. Let's say that we had begun to understand how to take advantage of the new Michelins, or rather, the rear tire that Michelin introduced or was supposed to introduce during 2020: so we could have done well, especially during the first race. As for the rest, holeshot is a system that we experienced first and then many have followed as has often happened in recent years; I have to say that we have been the forerunners of many, clearly not all but many, of the latest technical innovations that have been seen on the track. The holeshot is a system that certainly earns us something in the initial phase of the race: this is always good from a general point of view, because starting in front, especially in modern MotoGp, is really important".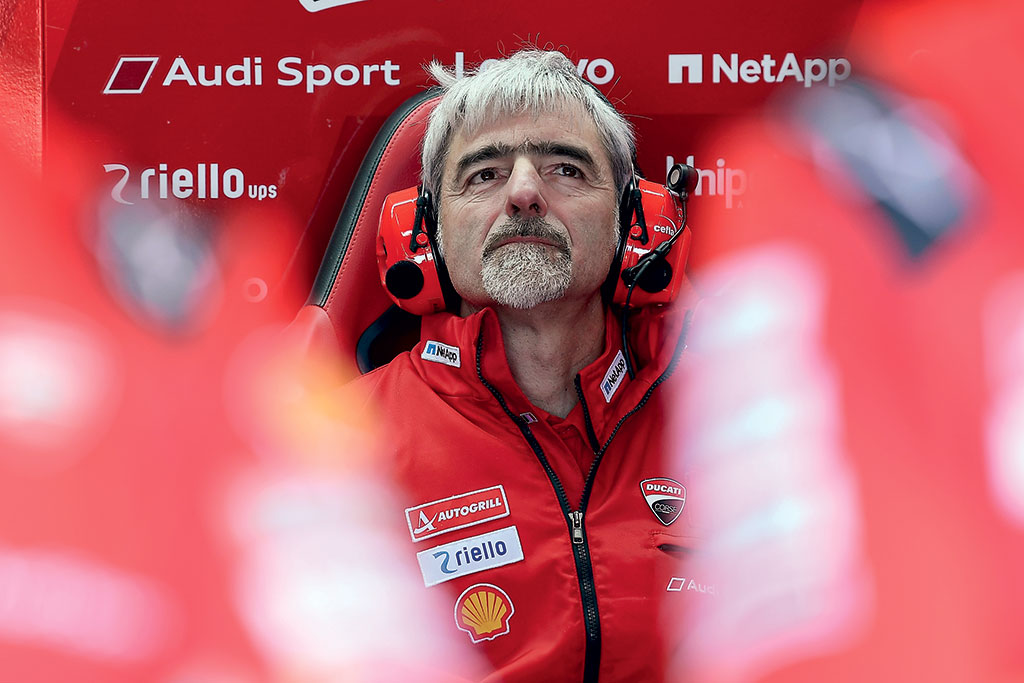 How was the return of motorcycles and materials from Qatar organized?
"We have had problems with the return of the material from Qatar, because between tests and races it takes about two weeks and usually all the material remains in Doha while the team returns to Italy; unfortunately the grand prix was fundamentally cancelled because the Italians were no longer allowed to enter Qatar, or rather all the Italians who were supposed to enter would have to do 14 days of isolation before they could do the activity on the track. So it was certainly not possible to carry out the race, but it was not even possible to send the Italian staff necessary to bring the material back in. Luckily we have team members who are not Italian, as well as several mechanics from satellite teams, who helped us in the re-entry operations".
Let's move on to a judgment on Ducati 2020 riders: what have they shown in recent years? What are the expectations and prospects for each of them?
Let's start with Dovizioso.
"The Dovi represents continuity for Ducati, it is the rider who in recent years has managed to best express the potential of the bike, and is the one who came second for three years in a row, a year playing the world championship until the last six laps of the last race. It is evident that he is a reference driver right now for Ducati".
Petrucci.
"Danilo, on the other hand, is a driver who has grown a lot in recent years with us, he is a driver who last year managed to win a race, the Mugello race that for us at Ducati is extremely important. He did a really positive first part of the season, the last part was certainly not up to the first; but he also struggled to the end for third place in the league. He is a driver who was discovered by Ducati and who still has to take a small pass to really aim high, but we are confident that he can do so".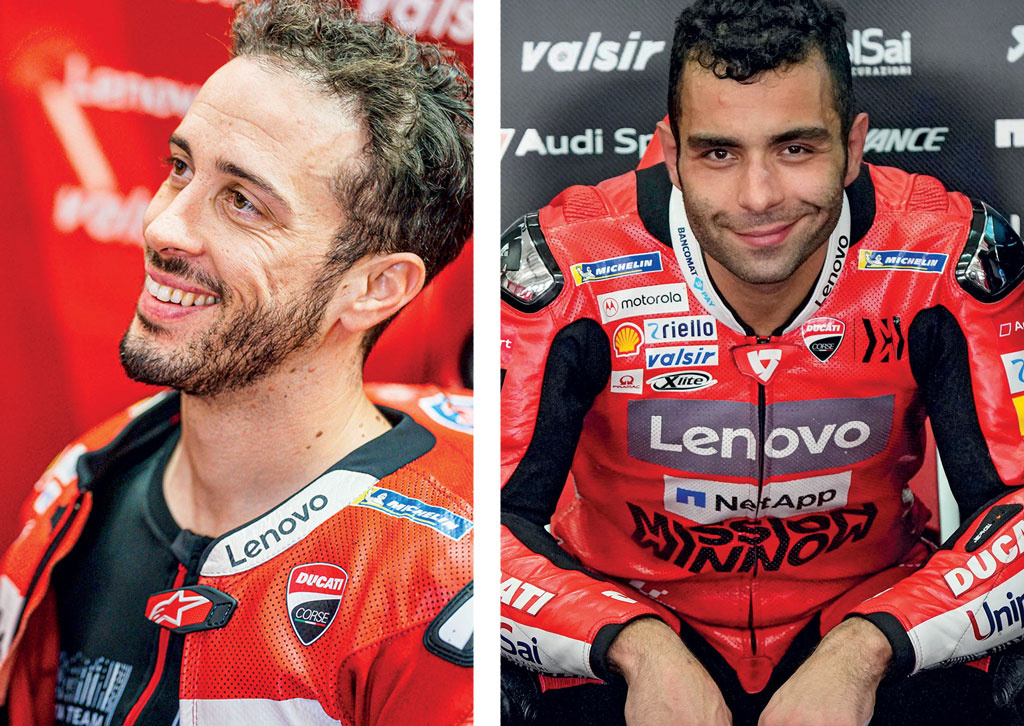 Miller.
"Jack is also a motogp rider who first had a history with another manufacturer and I have to say that when he arrived in Ducati he immediately proved to be fast. He too has made important growth steps in recent years, just as he also had an extremely positive season last year, with 5 places. He is a driver who has a lot of grit, he has to smooth out some edges that in my opinion he still has, but he also has all the cards to be able to do well".
Bagnaia.
"Bagnaia is a young man, a young man who has a lot of talent, world champion in Moto2; already in Moto3 he had shown that he could do very well, with a bike that was probably not the absolute reference; I think he still needs some adaptation time, but I am convinced that he will be able to make good use of the bike this year; i hope".
Tito Rabat and especially Johann Zarco.
"Tito is also a Moto2 world champion; he did well until the time of his most important accident, at Silverstone last year, then from there he struggled a little to recover the speed he had. He's a driver I love very much because he's a very good guy, I really hope he can get back to doing what he could do before the accident. Zarco is still a discovery, a card that probably no one has really seen, he is a rider who has done well with a bike quite different from ours. He had the misfortune to skip the tests at the end of last season, he started with us only in Sepang and so far he has only been able to do 6 days of tests; so it's too early to make an assessment but i hope he can do well at least as he did with the other house".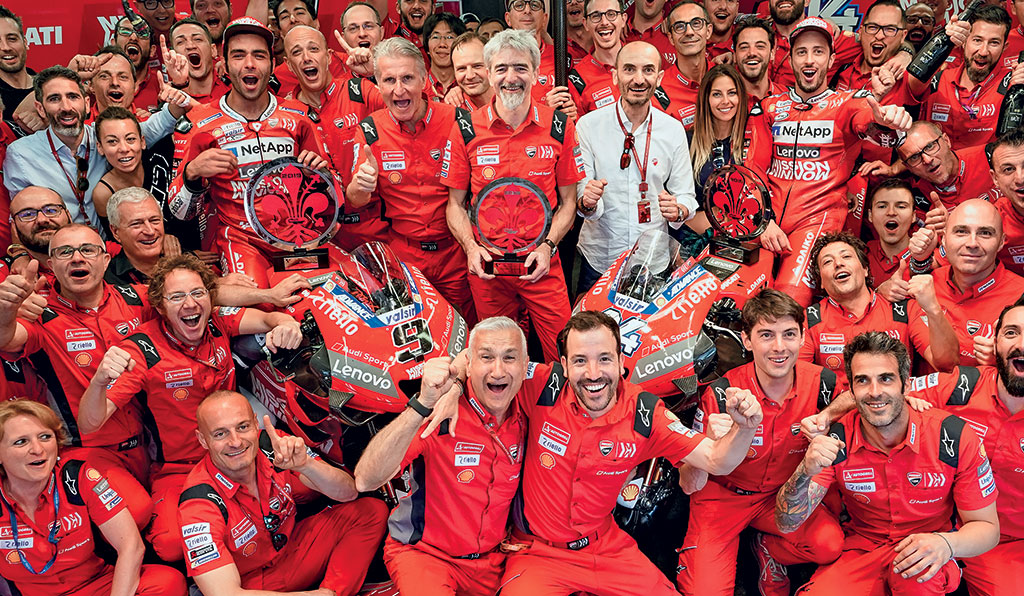 About Zarco: is it an impression or really there is some interest for those who have experience with the four in line and above all a particular confidence with the speed in the corner?
"It is always important the feedback that a rider offers you when switching from one bike to another, because the nuances it gives can be important to better understand the differences and above all to try to improve our bike. When a rider changes bikes and gets on a Ducati it's always important for me to listen to what he has to say".
Cornering speed is the point on which Desmosedici in recent years must improve the most: in which directions are solutions sought?
"Evidently every bike has pros and cons, it is impossible to concentrate only the pros on a motorcycle. When one prepares a set-up to improve certain aspects, he necessarily penalises others. I move the blanket over my body and sometimes I discover my feet, sometimes my head. It is certainly true that one of the things that we want to improve is cornering speed.".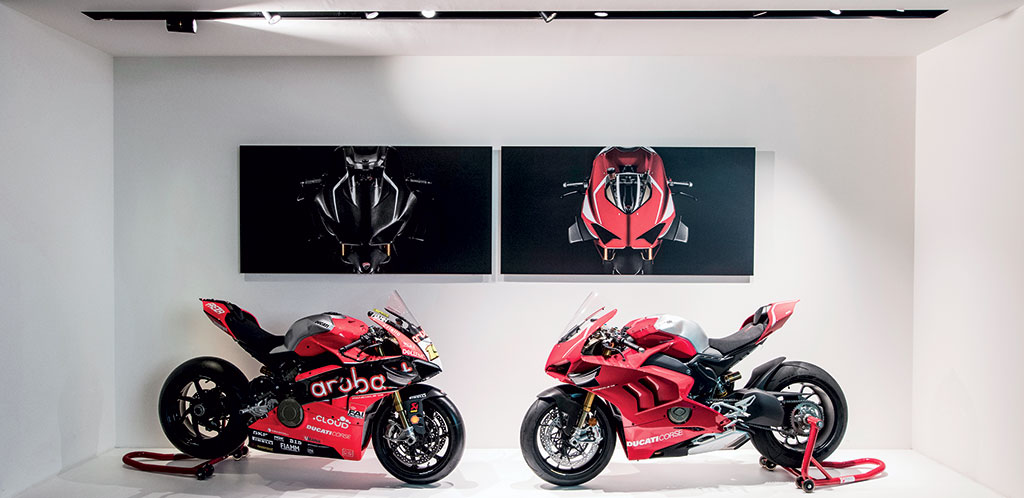 In your career you are famous for some original technical insights, if not for real inventions. Which ones are you most proud of? For example, can you tell us about how the idea of wings and the aerodynamic development of racing bikes was born?
"The wings on the bikes I did not discover them, Ducati had already used them in the past, always in MotoGp; from my point of view, however, I felt that somehow aerodynamics on motorcycles had always been neglected, for many reasons, so it was one of the sectors on which I wanted to do something more. Working on aerodynamics we understood how to make the most of it, because the wings not only have advantages: it is a bit like the blanket I told you before, they bring benefits in some places, but disadvantages in others, so it is important to reduce their negative effects. This was an important study that at Ducati we carried out until the end of 2016, because 2015 and 2016 were the seasons in which aerodynamics was basically free, apart from a few maximum sizes not to be exceeded. At the end of 2016, or rather at the beginning of 2017, things changed a lot, they began to limit both aerodynamic development, imposing the approval of a single hull and a single new hull during the season, but above all eliminating the possibility of using wings as we normally understand them. However, we managed not to let go of aerodynamics: we had the idea of using ducts instead of wings, the regulation gave us this opportunity. Again we were the first to do it, then everyone else somehow followed us. It's true, aerodynamics is one of the things that sets us apart and makes us proud of all the work done".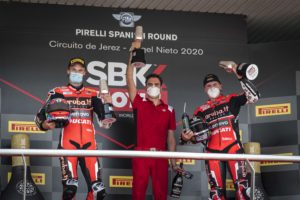 A Jerez de la Frontera, seconda tappa del campionato SBK, si ri-accende lo spettacolo con Ducati protagonista. Doppietta di Redding e secondo posto in gara 2 per Davies.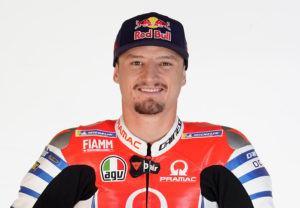 Ducati Corse è lieta di annunciare che Jack Miller sarà uno dei due piloti ufficiali del Ducati Team nel Campionato Mondiale MotoGP 2021.