That the Multistrada is a sui generis road enduro has proven this several times in recent years, even with repeated victories in an uphill speed race such as Pikes Peak.
In short, if in this sector the Houses focus on the tourist and multipurpose aspect of the vehicle, even if over the years there has been a real chase in search of maximum power, Ducati, also not to deny its DNA, has never hesitated to put the emphasis on the sports aspect of multistrada; as indeed, it has been since it was first presented, back in 2003.
It is therefore not so much surprising the recent category victory obtained by Andrea Rossi riding a Multistrada 1260 Enduro during the Transanatolia Rally 2020,one of the most famous rally raids in the world.
Of course, compared to Pikes Peak, the terrain is clearly different, because we are talking about a race that takes place all on off-road and on very different terrains, as Rossi rider confirms, Ducati rider and test rider: "The rally turned out to be even more challenging and complete than I thought. We faced challenging mountain, slow, stony and technical stages, such as very fast stops on the Anatolian dirt tracks and, finally, stops on the sand of the Black Sea beaches".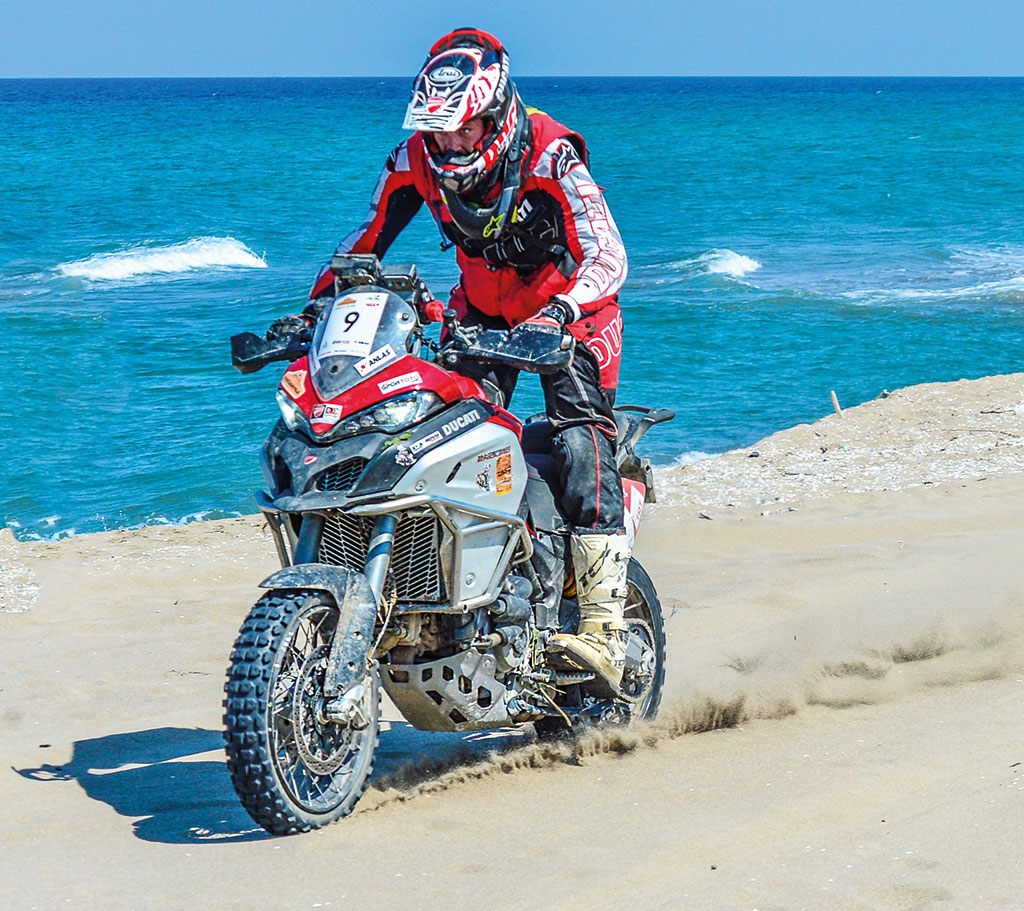 In such a complicated context, Enduro took first place in the Bilindriche category and the 9th absolute position.
The 2020 edition was held between 15 and 22 August and the itinerary, developed over seven days, provided for the departure from Istanbul to reach Sile, crossing the cities of Abant, Aymana and Karadag, for a total of 2850 km.
Few changes affected the 1260, among other things all taken from the catalogue Ducati Performance,such as bull-bar, radiator protectors and approved silencer; in addition, a particular setting more suitable for extreme off-road, which included a higher saddle, suspensions adjusted according to the type of route, in addition of course to the side number tables, mandatory by race regulations.
Changes made necessary to face a very hard race, which tests both professional riders and the many amateurs who participate in it: as mentioned, the route is characterized by very rocky terrain that alternates with clay roads, sand and very fast stages where it is important to be able to count on an engine with abundant cavalry.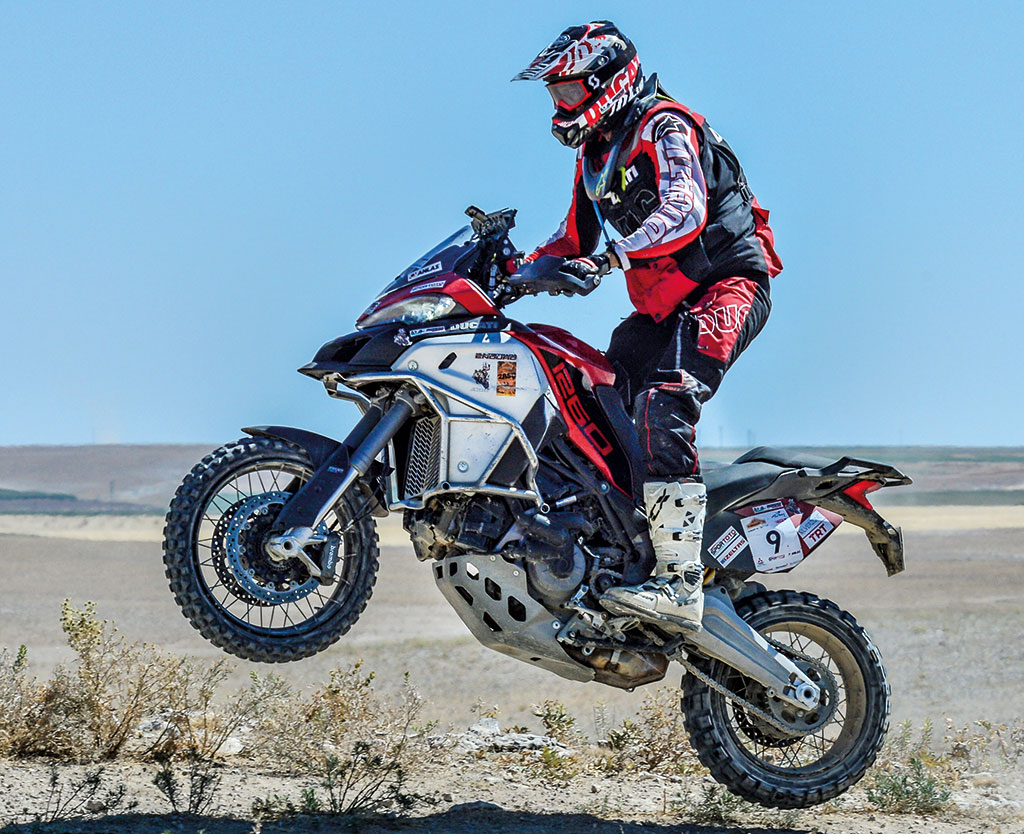 A very complicated mix to deal with even for rider like Andrea who has been working at Ducati since 2016, precisely for the development of the Multistrada Enduro project. "I know very well – said the rider – the potential, the robustness and the countless qualities, for this reason I decided to participate in a challenging rally like transanatolia with a bike practically standard. The Multistrada 1260 Enduro has overcome all adversity in an excellent way. It was a great joy for me to take her to victory in the Bilindriche category and in the top 10 of the general classification".
A satisfaction well placed and deserved if we think that Rossi has faced 7 stages in 7 days, with an average of 450 km per day for 8 hours of daily navigation,climbing a mountain of 3000 meters above sea level and touching a maximum speed of 203 km/h on the salt lake of Tuz Golu. An excellent result for this rider an expert in off-road, tester and Ducati tester, but also for Enduro that highlights well, with this participation, its predisposition for off-road vehicles, thanks to a particular equipment that makes it suitable for such use; in fact, we remind you that the bike, precisely to guarantee more control in off-road driving, is equipped with wide and high handlebars, toothed platforms, standard cups and specially designed tires.
Also in this perspective, compared to the Multistrada 1260, the Enduro version has a six-speed gearbox with the first shorter gear, as well as, on the cycling front, it offers semi-active suspension and a Sachs steering shock.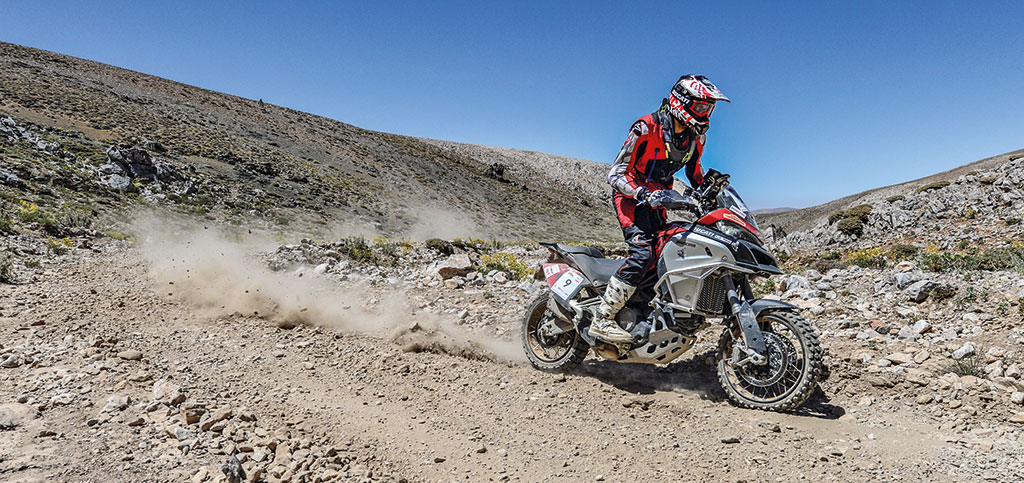 In conclusion, another trophy to be included in the Multistrada palmarès that confirms, once again, how Multi actually is. After all, didn't Ducati say it was four bikes in one?
Ducati Photos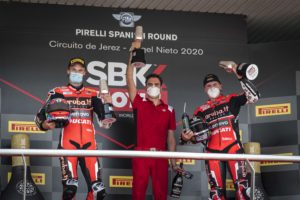 A Jerez de la Frontera, seconda tappa del campionato SBK, si ri-accende lo spettacolo con Ducati protagonista. Doppietta di Redding e secondo posto in gara 2 per Davies.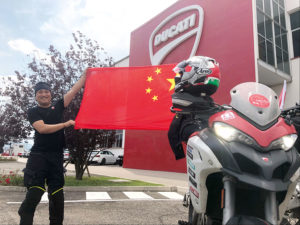 7575 Km in sette giorni con la Multistrada Enduro 1200. Dalla Cina a Bologna, poi a Misano per partecipare al Ducati World Week 2018.