I would like to present you with a small problem that I encountered with my Diavel of 2013,relating to the temperature of the cooling system that, especially in the city, easily exceeds 100 °. Often, above this temperature, the fan comes into operation. I also noticed a curious phenomenon: if I stop the bike because maybe it has reached 105 ° and after a few minutes the restart, it happens that the temperature is higher than when I turned it off: is it normal? Once, after a long stretch in the city, in the middle of summer, the temperature reached a good 120 °. Isn't it dangerous to engine integrity?
Myrtcus
Stefano Ferrigno responds
Dear Mirco, unfortunately modern high-performance thrusters such as the twin-cylinder of your Diavel develop a huge amount of heat, also due to the presence of a whole series of anti-pollution devices that put a strain on the cooling system. To this add that in use in the city the convection that the water radiator relies on is highly inefficient, since there is no constant and fast flow of air through the tube beam. The temperature is therefore normal to rise rapidly well above 100°C.
The fact that the indication on the instrument goes up with the motion off is completely normal, since the circulation of the cooling fluid is missing, the relative sensor can only record an increase in temperature: the engine, in fact, continues to emit heat while the "refreshing" action has ceased. Up to 120° there are no engine integrity problems, but "carburation" may become sub-optimal, at least until the temperature drops back to more normal values.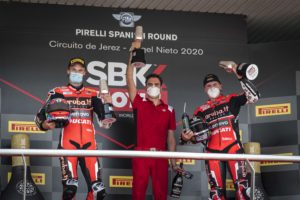 A Jerez de la Frontera, seconda tappa del campionato SBK, si ri-accende lo spettacolo con Ducati protagonista. Doppietta di Redding e secondo posto in gara 2 per Davies.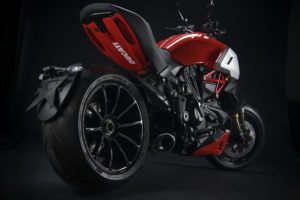 Dal catalogo Ducati Performance una selezione di accessori per valorizzare l'attitudine da sport-naked del Diavel 1260