In 1979 Ducati, in close collaboration with the NCR of Giorgio Nepoti and Rino Caracchi, decided to commit to the European Endurance Cup. A period that certainly little explored in recalling ducati's sporting past, but nevertheless interesting in many respects: a fascinating bike, the 900 Super Sport, the certainly exciting scenario of endurance races and, finally, the great personality and great weight of the men who were the architects of these events.
Mario Lega, world champion of the 250 class in 1977 with Morbidelli, was one of them. With Mario we had the opportunity to reconstruct those episodes in various ways.
What came out of it is an anecdote-rich insight, in that 1979 that, for motorcycle Italy, was almost exclusively marked by the challenge between Virginio Ferrari and Kenny Roberts for the world title of the 500 class.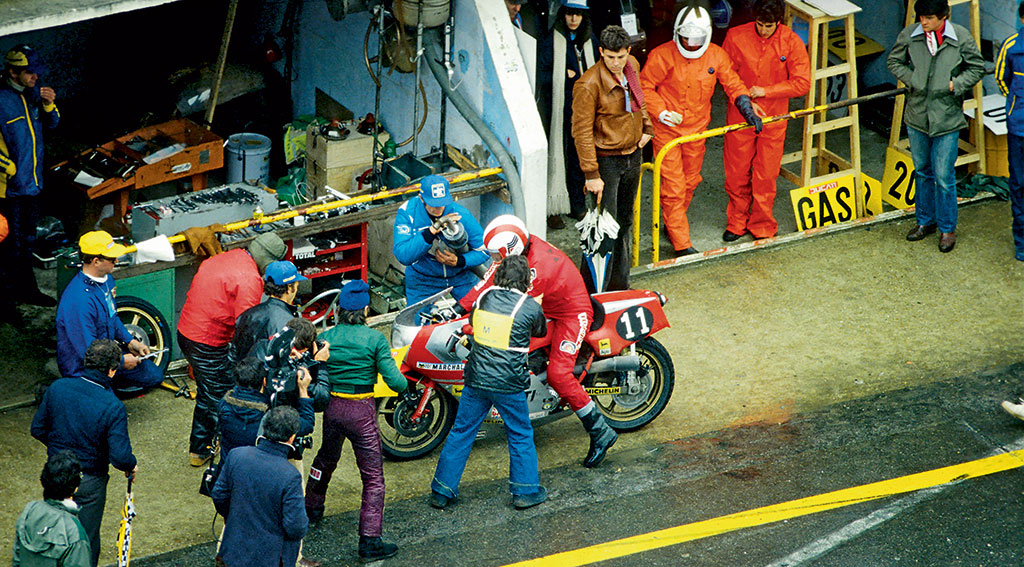 "I came from my last season in the Grand Prix, – mario begins to tell – that of 1978 with Morbidelli. We mutually agreed, because neither of us was more satisfied than the other. They took Graziano Rossi, Valentino's father. I stayed on foot until I received the call from the NCR: they asked me if I wanted to play in the European Endurance Championship, which was not yet World Cup. I remember having a beard, because I had imposed myself not to cut it until I found a saddle again. I kept faith with the flower, I met the ducati men with the beard and I only cut it when we reached the agreement!"
Mario, at this point is a rider of the House of Borgo Panigale: "Yes, because my contract was as an official rider, concluded with Ducati, which in the operation provided the engines and motorcycles, which were then managed by ncr. Farné worked inside and was divided between the factory and the structure of Caracchi and Nepoti."
Without the beard anymore, the rider of Lugo di Romagna is therefore preparing to embark on the new adventure: "At first, the co-teamer was Victor Palomo. Before me, in Ducati there was Sauro Pazzaglia, who was paired with Arturo Venanzi. It was Sauro who carried out all the tests, especially those with Michelin tyres. The first race was the 24 Hours of Le Mans. We ran in the rain and this was nothing new. Victor fell after the departure; we repaired the bike and I fell too. It was repaired again, but Palomo fell again, this time getting really hurt. He broke his nose, which made him horrible to see, as well as injuring his arm and leg. Vanes Francini took over to replace him."
Who knows what it was like to share the saddle, and therefore the settings of the bike, with other riders? "It must be said that Victor was one meter and eighty meters tall, – continues Lega – I was about ten inches less than him, so I was spinning with a thickness that I stared at the boning of the ladle every time it was my turn to get on the bike. I would attack him and detach him with velcro. This allowed me to still have the right distance between saddle and tank. The weight between us was also different and the adjustments were not ideal. I'm one who fits easily, so I made them do it to him. When he was good, I would go accordingly."
Then, therefore, there was the arrival of Vanes Francini: "With him things were different: we were about the same size and we had the same ideas. Only bad luck prevented us from being able to bring home concrete results with Vanes. We got to the point where Vanes said that when the bike was good for me, he wouldn't even try it because he was sure it was just as good for him."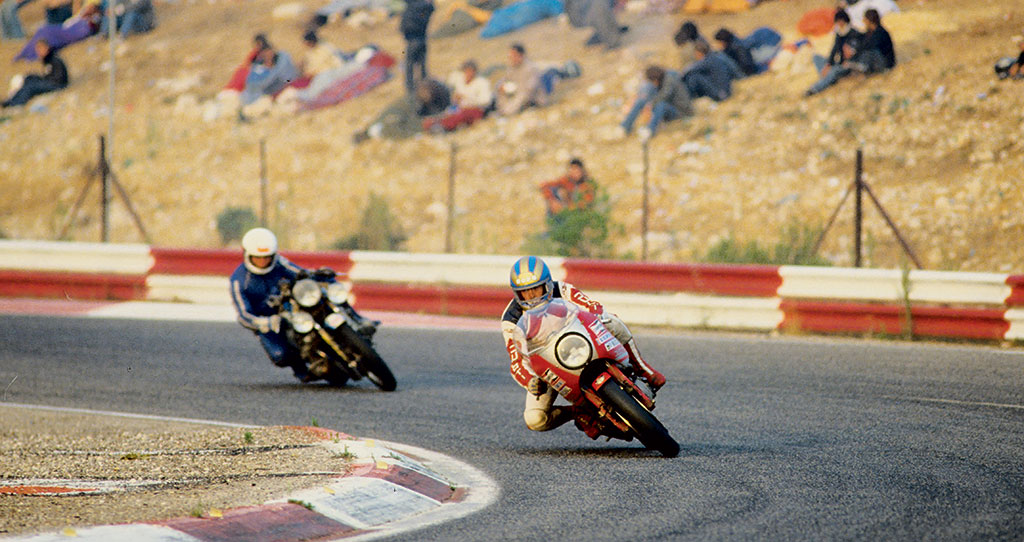 In this regard Mario Lega tells an anecdote: "We were playing the Bol d'Or practice on Paul Ricard's circuit. I got off the bike and said that was fine with me, Vanes then replied that it would not be necessary for him to turn. I insisted he do a couple of laps. There was a tug-of-war and I finally managed to convince him. Francini entered the track and after a couple of laps, in full straight, he broke his rear circle, perhaps due to a melting defect, and fell fearfully, breaking his collarbone, thus no longer being able to take part in the race."
It was the premise of a decidedly unfortunate race weekend: "It is true. A rider, a Tost, a German man who had put himself on display at the Nurburgring was roaming the paddock. He replaced Vanes. At the start, the bike did not want to know to leave and when it finally turned on the others were already far away. I managed to get to the end of the comeback round, about 22nd place. Then it fell to Tost. I almost hadn't come down yet that fell. I was called back and it almost immediately touched me again. To recover again I did 'the rider', that is, I left out the rules of measured driving, aimed at saving my energies and the bike, which were to be observed in endurance races and that I, being a 'runner', as an extraction, was assimilating. Then a seal of the hydraulic brake circuit loosened. I stopped because the lever was now touching the knob."
At that point Lega decided to get full and continue: "I had turned for a shift and a half. When I stopped, instead of eating I filled up with liquids, which in the night made their effect: I began to have stomach agitation and they took me to the infirmary. They put a drip on me and I fell asleep on the cot. To wake me up came Farné, who told me that Tost was at the limit of allowed driving, that they saw him go left and right from fatigue. He asked me how I was doing. The needle of the drip had gone out of the way: I had an arm that looked like that of Iron Arm, I was not well, but I went. So I started shooting again. Tost had lost many positions and I rolled up my sleeves, thinking that, all in all, I felt better and better, turning at the end two seconds from my reference time. This was until I got behind Sauro Pazzaglia, who proceeded slowly along the path with his arm raised: he had broken. As I passed it, I got the smell of burnt oil, turned my stomach back! I stopped without warning and couldn't keep going. Moral: we withdrew. They told me of all colors, since on one of the occasions when the bike didn't break in a 24-hour race, I broke myself and so I also took half a dagger!"
It was the last League race with Ducati. But during that season there had been much better moments: "The results came mainly in pairs with Victor. We had the same step, he had a nice past in 250, maybe he had collected less than me, but the fact was that, so to speak, we had the same weight, the same value. So it was a nice turn, it was a comfort to know that during rest between shifts, your partner would not lose positions. The team itself was serene, there was no rivalry. There were days when he was better than me, while I was doing better in the wet. Our reference was the Léon-Chemarin pair, who with Honda was the one who won everything. We mirrored ourselves in them: they were truly like two brothers!"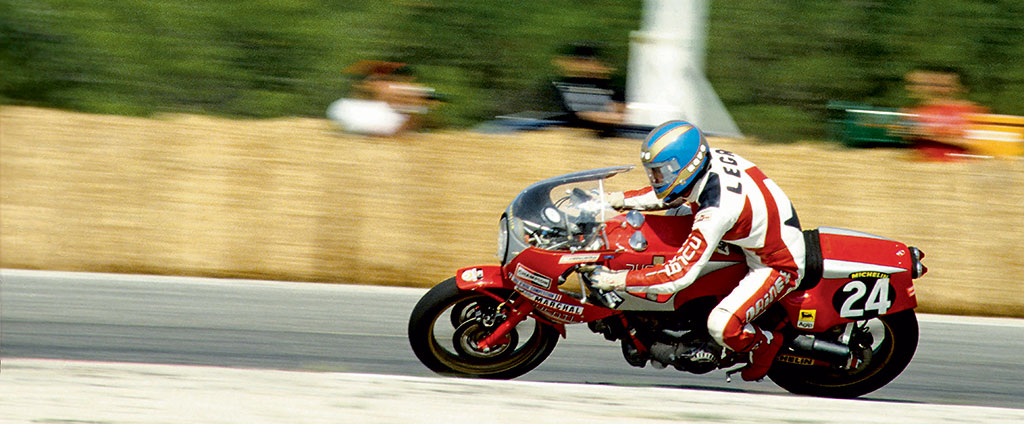 Mario and Victor Palomo thus had their moments of glory: "In the 6 Hours of Assen we ranked second under a kind of universal deluge. I remember putting myself behind Léon and I had a hand-carved slick, just with a few carvings to drain the water: I had chosen it knowing well the exceptional grip of the asphalt of the Dutch track. The Honda rider kept turning around, maybe not capable of how he couldn't shake off my Ducati. I was heeling him so closely that, by the fury of feeling the pressure I put on him, he fell. I, passing in front of the pit wall, without Léon's company, could not hold me back and I made a gesture as if to say: you saw that I managed to bring him down! I didn't want to hold back in enthusiasm!"
The emotion manifested on the track by Mario was also reflected in the pits, after the race: "I even made Giorgio Nepoti cry. It went like this: once we reached the second position, the patema of the last round of laps that separated us from the enterprise began. Every signal was noteworthy and in the braking Giorgione watched how much the stop of others was on and how much mine. Nepoti had noticed that the light of others was turning on much more than mine, which instead turned on and off immediately. He started to think that I was going too hard, that I was risking too much and that I was going to go bare-legged at any moment. This caused him such stress that when I got to the finish line, he mumbled something to me and hugged me bursting into tears. We came behind only Kawasaki of the Huguet-Moineau crew."
The podium was also won at the Nurburgring: "I still boast about that result. – congratulates Mario – We came third, with the difficulties of that track that was as terrible as it was fascinating. We were fighting Kawasaki. Victor and I always gave each other the changes close to the Kawasaki of the écurie Pipard, in a compelling duel. During my shift, I noticed that the Kawasaki rider in front of me stretched out his legs to stretch out, or maybe a cramp. I took advantage of it, managing to pass it and even detach it. Victor maintained the lead and we got to the podium. That result, on that track, was a huge satisfaction."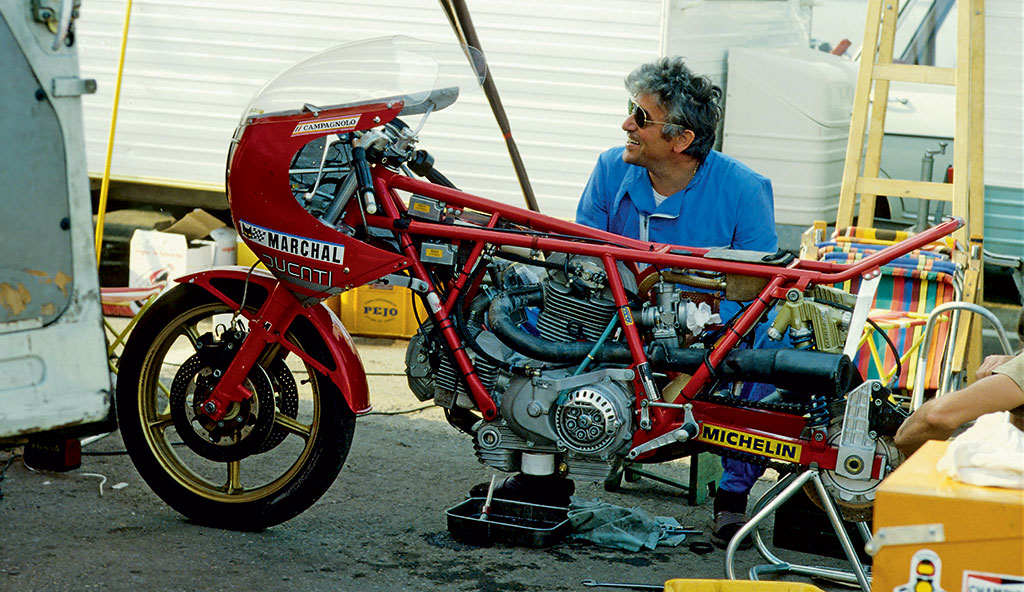 The podium races, from Assen and nurburgring, took the Ducati 900 SS to the top of the standings.
"Those results and other placings took us to third place in the general classification, despite not having raced at Le Mans and despite retiring to the Bol d'Or. Moreover, what added value to the result was that ours turned out to be the first twin-cylinder motorcycle and the first European motorcycle. I mean, there were aspects that tasted like enterprise!"
"During the race, Giorgione Nepoti had accumulated so much stress that when I crossed the finish line she burst into tears…"
Then, however, the season did not come to an end: "Yes, after the Bol d'Or race we should have gone to Misano, in one of the short races, where Vanes and I felt strong. The race was cancelled for organizational reasons and, despite missing a couple of races at the end of the season, Ducati made the decision to stop there and not to take part. Too bad, also because the team was fine, there was friendship and irony, which never hurts; there was only a few rifts with Farné, but nothing serious, today we greet each other and talk to each other without problems. After all, in which family are there no small clashes? And we were a family. However, without warning, choosing not to defend the third place that we had managed to reach, in Ducati they did not want to continue. So the story ended there, not even giving me the opportunity to get in touch with other teams, where I would certainly find a place as it had become possible, in the meantime, to deploy crews of three riders."
Vanes Francini continued, but this is another story, as well as another season and another motorcycle.
Photo Moto Journal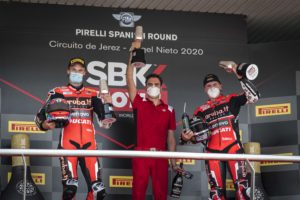 A Jerez de la Frontera, seconda tappa del campionato SBK, si ri-accende lo spettacolo con Ducati protagonista. Doppietta di Redding e secondo posto in gara 2 per Davies.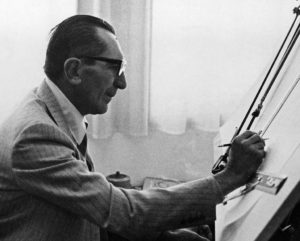 Engineer Fabio Taglioni, born in Lugo on September 10, 1920, was one of the main protagonists of Ducati history.