On October 24, 1992, the first Monster was unveiled to the public at the IFMA Motor Show in Germany, the first of nearly half a million motorcycles of its kind built so far in all their different cubatures and configurations.
Argentine designer Miguel Angel Galluzzi's concept of stripping a Superbike of his bodywork to create a minimalist, easy-to-use but powerful road bike, combining sports charm and everyday practicality, was an immediate success, with thousands of customers eager to adhere to his creed: "All you need in a motorcycle is a saddle, a tank, an engine , two wheels and a handlebar. Everything else is superfluous."
The importance of the Monster family of models to ducati's balance sheet cannot be underestimated. In fact, the only reason the Italian sports motorcycle manufacturer stayed in business long enough to finally be acquired by the Volkswagen Group in 2012 was because of the profits generated by all those hundreds of thousands of monsters built and sold over the past two decades.
[block id="15902″ title="Ads banner"]
Because this bike has not only established itself as a style icon, but has also provided the financial platform to bring to Ducati its 14 Superbike riders world titles and 17 Constructors' Titles, not to mention the MotoGP World Championship won by Casey Stoner.
In 1999, the M600 was the best-selling motorcycle on the Italian market: the first time a Ducati had achieved such success. In fact, as a longer-lived member of the Ducati model range, the commercial success of the Monster range continues to be a crucial lifeline for Ducati's profitability, even under the ownership of the VW Group.
This book is the first of two volumes that tell the story of the Monster from its inception in 1992 until today and is dedicated to all models equipped with the two-valve desmo engine.
For orders and information https://www.motoitaliane.it/libri/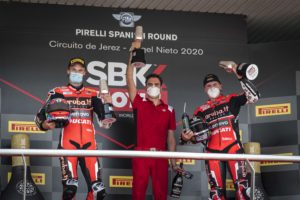 A Jerez de la Frontera, seconda tappa del campionato SBK, si ri-accende lo spettacolo con Ducati protagonista. Doppietta di Redding e secondo posto in gara 2 per Davies.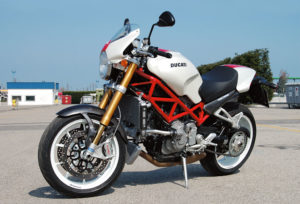 Il fascino della naked più famosa unito alle prestazioni di una vera supersportiva: ecco il biglietto da visita del Monster S4RS.