This umpteenth adventure for Valentino Rossi will start in Qatar (COVID permitting) on March 28, at the age of 42 years and 40 days.
Given that he certainly can't make it to Agostini's 15 rainbow titles, nor Nieto's 13, and it's highly unlikely that he will be able to break Agostini's other record of 123 iridescent victories, he is stuck at 115, having to break a fast that now lasts from the contested victory of the Dutch Grand Prix in Assen in 2017 and therefore win almost half of the Grand Prix on the calendar.
Altrettanto improbabile appare anche la possibilità che arrivi a conquistare almeno quel decimo titolo che gli avrebbe consentito di superare Hailwood e Ubbiali che ne vantano 9 quanto lui, posizionandosi così in solitaria al terzo posto di questa prestigiosa classifica e distaccando ulteriormente Marquez al momento ancora fermo ad 8 titoli.
Potrebbe allora puntare almeno a qualche record di anzianità , ma anche qui l'impresa appare impossibile se dovesse chiudere con le competizioni alla fine del 2021, impossibile perché tutti i detentori di record di anzianità risalgono ai primissimi anni del Motomondiale per la semplice ragione che alla fine delle ostilità ripresero a gareggiare i piloti che già si erano affermati nel decennio precedente la seconda guerra mondiale, quindi già avanti negli anni.
Fergus Anderson's 44-year-old and 237-day grand prix record is not within his reach (1953 Spanish Grand Prix) but the record of the oldest rider poleman currently held by the semi-unseen British rider Jack Brett with 41 years, a month and 3 days that made pole at the 1958 German Grand Prix would be within his reach.
Not even a podium would give him a record rider to mark in the personal palmarès because the oldest rider to take the podium of a top-class Grand Prix was the German Karl Hoppe, second at the German Grand Prix in 1969 at 46 years, 3 months and 26 days.
Only the unlikely tenth title would bring him the prestigious record of the oldest world champion in the top class, currently held by the first World Champion in history, Leslie Graham who became iridescent of the 500 in 1949 at 37 years and 341 days but would not have been an absolute record of seniority as riders riders graduated World Champions well over 40: Fergus Anderson at 44 in 1953, and then again in 1954, (class 350) and Hermann Paul Müller, oldest of all having won the title of the 250 in 1955 when the last Grand Prix of that championship was held in Italy on September 4.
Muller was 45 years and 287 days old that day, so there were only 78 days left to celebrate his 46th birthday.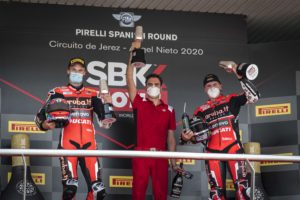 A Jerez de la Frontera, seconda tappa del campionato SBK, si ri-accende lo spettacolo con Ducati protagonista. Doppietta di Redding e secondo posto in gara 2 per Davies.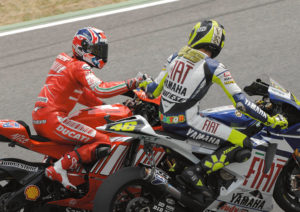 Due piloti così forti in una stessa epoca generano tensione, dividono le folle: ma chi è davvero più forte tra Rossi e Stoner?