It cannot be said that in Ducati they have let themselves be brought down for a year as sad as 2020; in fact, it seems that they have taken the long months of uncertainty and partial lockdown putting down a real revolution of the range. Multi-road V4 included, in fact, there is no family of products that has not been deeply revised and renovated.
Take, for example, the panigale series that come with a new version, the V4 SP, which has definitely struck the Ducatisti at the heart; already in its SP definition the reference goes straight to all those models of the superbike family that have made the history of the brand, starting from 916.
How can we forget the 748 SP? If by any chance you have done so, here we take care of refreshing your memory with the short article that you find below.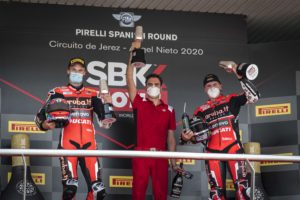 A Jerez de la Frontera, seconda tappa del campionato SBK, si ri-accende lo spettacolo con Ducati protagonista. Doppietta di Redding e secondo posto in gara 2 per Davies.
Tra le novità del 2021 c'è la Panigale V4 SP. Questa sigla, simbolo di sportività estrema, è apparsa anche sulla 748, la prima Ducati 4 valvole desmo.
The new SP, it is good to say right away, is really beautiful and elegant; its livery is very sporty, moreover it is the one used by Ducati for the winter tests of its racing bikes: the matching red and black create a result of great suggestion that is difficult to resist, at least until you know the price of this beautiful race replica: In fact, 37,000 euros is the amount to be paid to get hold of it.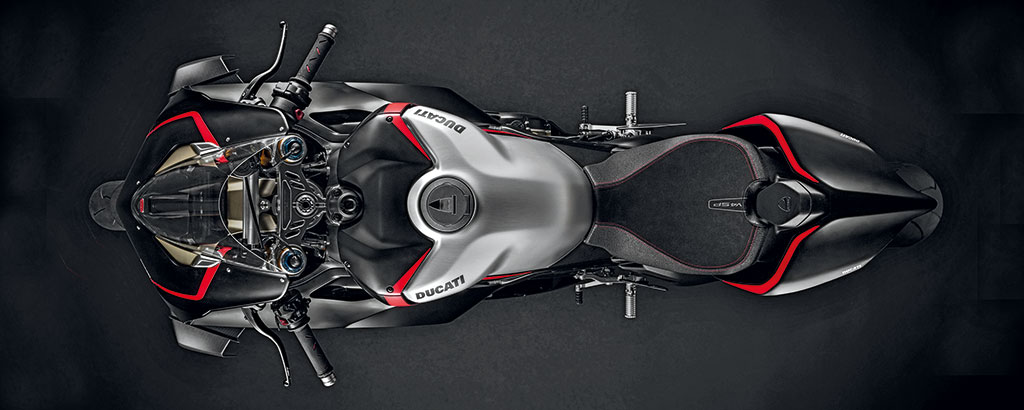 A remarkable figure, but justified by a technical equipment of absolute value, as evidenced by the beautiful carbon rims, the brembo stylema front brake rider's footpegs rider platforms in anodized aluminum alloy, the dry clutch and the final transmission with a chain of 520 (such as the one used in the MotoGP championship).
Then, the SP is lighter than the V4 S thanks also to the many carbon parts; finally, compared to the R they tell us that it is much easier, for rider, to take to the limit.

In this sense, the electronics, once again, give a nice hand: the Riding Mode Race, in fact, is now provided with two mappings (Race A and Race B), so as to allow the rider a quick comparison between the two configurations and consequently choose the one he considers best.
In addition, the new ducati traction control setting, present throughout the Panigale family for 2021, intervenes in the delicate phase of reopening gas in the center of the curve, in order to make the out-of-curve acceleration even easier and more predictable.

In conclusion, to justify the substantial purchase price, it is added that it is a motorcycle produced in limited and numbered series.
The Panigale V4 SP at a glance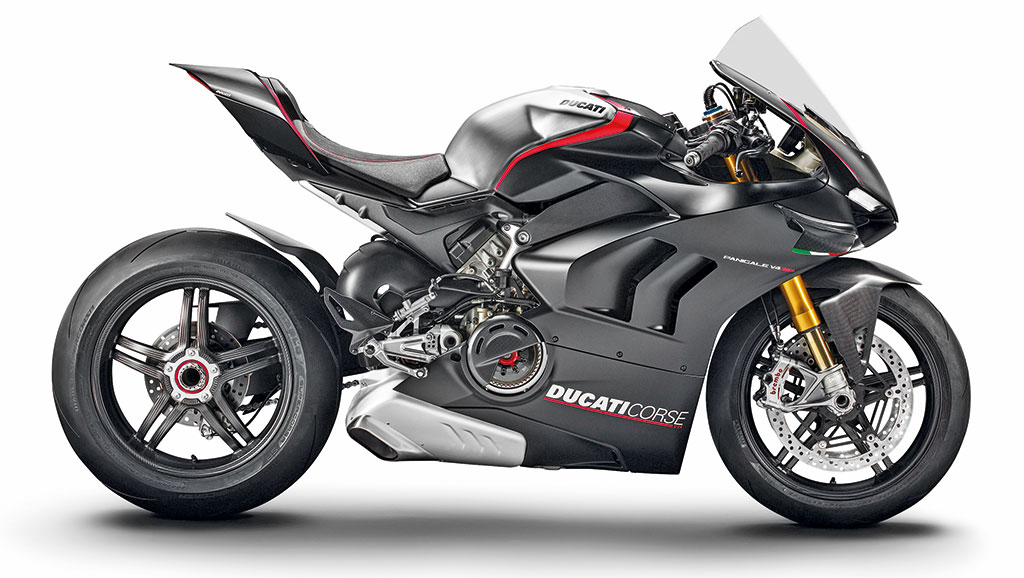 Colors
Winter Test livery in matte black with bright red details and brushed aluminum tank on sight
Main equipment
Steering head obtained from the tank with the progressive number of the bike reported
Brushed aluminum tank on sight
Dedicated saddle with "V4 SP" logo
Carbon fiber wings
Carbon fiber front fender
Dry clutch STM-EVO SBK
Final transmission with 520 chain, specific pinion and crown
Split 5-spoke carbon fiber rims
Brembo Stylema R front brake calipers
Brembo MCS Front Brake Pump 7.21pm
(Multiple Click System) with remote adjusting
Front brake levers and clutch "unloaded"
Adjustable aluminum rider's platforms made from the tank with carbon paratacchi
Single-seat configuration
Ducati Data Analyser+ Kit (DDA+) with module
GPS (accompanying)
Open carbon clutch cover* (accompanying)
License plate door removal cover* (accompanying)
Aluminium mirror hole cover made from full* (accompanying)
*Designed for closed-loop vehicles only. Use on public roads is prohibited by law.
Price Panigale V4 Sp: 37,000 Euro
As mentioned, the electronics innovations also affect the V4 and V4 S, thus widening the gap even further with the competition. Other innovations are the adaptation to euro 5 which required several modifications to the exhaust and engine calibration, then to indicate the arrival of new self-purging brake and clutch pumps and the chain fin, a solution long envisaged in race bikes and that prevents unpleasant contacts with chain and crown in case of fall.
Another real news is the arrival of the SuperSport 950 which takes the place of the previous version simply referred to as SuperSport; here the step forward is truly remarkable, as at last this model equips the inertial platform with everything that follows in terms of electronic aids, as well as a decisive restyling, at least necessary given the four years since its debut in society.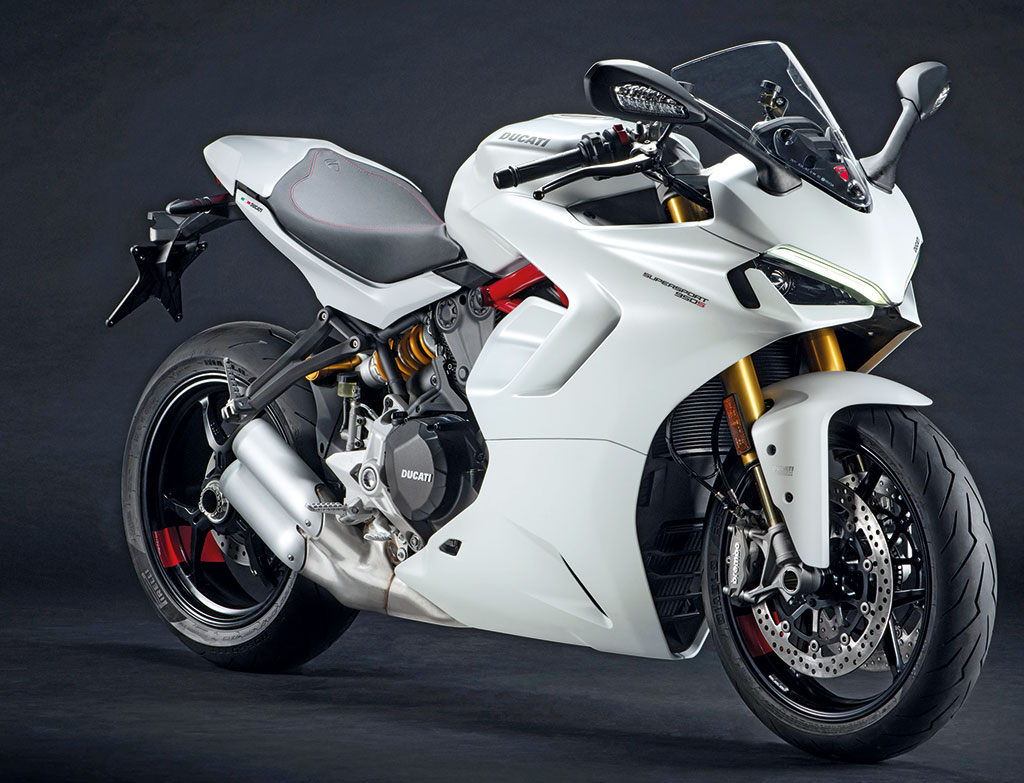 In this sense, the effort to adapt it to the aesthetics of the Panigale family is evident, as demonstrated by the new fairings, the front view where the full-Led projector is the protagonist, but also the TFT dashboard with similar graphics and interface.
Then there is the obvious adaptation to Euro 5 regulations that has not affected the characteristics of the 937 cc 11° Testastretta,since it always delivers 110 Hp at 9000 rpm with a maximum torque of 93 Nm at 6500 rpm.
The oil bath clutch is also new, now operated by the new hydraulic control with self-purging radial pump equipped with adjustable lever.
But as mentioned, the most decisive step forward the bike takes thanks to Bosch's 6-axis inertial platform, with all that follows, namely a complete electronic package in which Bosch ABS Cornering, Ducati Traction Control EVO, electronic transmission and the system that controls soaring stand out.
The end result is a more youthful, more sporty bike, which will certainly be able to expand the potentially interested audience, even in the face of an attractive purchase price if we take into account the important safety package now offered by SuperSport 950.
SuperSport 950 at a glance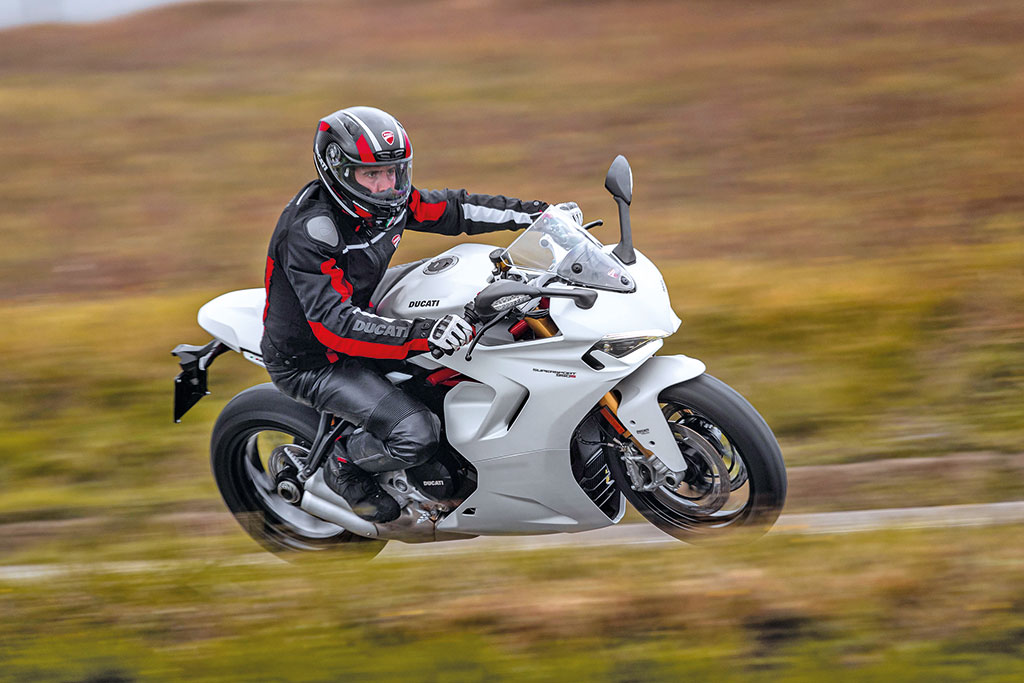 Colors
Ducati Red hull with Ducati Red chassis and Glossy Black wheel rims
Main equipment
11° 937 cc 110 Hp to 9000 rpm engine and 93 Nm to 6500 rpm
Euro 5 homologation
2-1-2 exhaust system with side silencer with two overlapping outputs
Main beam frame with carrier function motor
Rear traliccio frame
Aluminium single-arm swingarm
3-spoke "Y" aluminum casting wheels
Pirelli Diablo Rosso III 120/70 ZR17 ant tyres. and 180/55 ZR17 post.
Marzocchi fork fully adjustable with 43 mm diameter stems
Adjustable Sachs shock absorber
Brembo front braking system with two 320 mm discs and M4.32 pliers
Brake pump ant. Brembo PR18/19 self-purging radial with adjustable lever
Hydraulic clutch control with self-purging radial pump and adjustable lever
Height-adjustable Plexiglas on two positions with a 50 mm excursion
3 Riding Mode (Sport, Touring, Urban)
Full-LED projector with Daytime Running Light
Full-TFT color instrumentation
Electronic package with 6-axis inertial platform including: Bosch Cornering ABS; Ducati Traction Control Evo; Ducati Wheelie Control Evo; Ducati Quick Shift up/down Evo
Waterproof USB socket in the under-saddle
Predisposition for anti-theft, heated knobs and Ducati Multimedia System
SuperSport Price 950: 13,890 Euro
SuperSport 950 S
Colors
Arctic White Silk hull with Ducati Red chassis and Glossy Black wheel rims
Ducati Red hull with Ducati Red chassis and Glossy Black wheel rims
Equipment such as SuperSport 950, with the exception of:
Fully adjustable Öhlins fork with 48mm stems and TiN
Fully adjustable Öhlins shock absorber
Passenger saddle cover
Ducati Red "tag" on wheel rims
SuperSport Price 950 S: 15,590 Euro
We end this short roundup as we started, that is, with an exclusive model, in limited edition (630 pieces) and available only for over-30s, where the figure does not indicate the indispensable age to drive it, but the economic availability necessary for the purchase, that is, more than 30,000 euros. The Diavel 1260 Lamborghini,in addition to the price, still has a lot of exclusive, if only for its kinship with a supercar like the Lamborghini Siàn FKP 37.
Of course, the similarities are limited to the design of the rims, which explicitly recall those of the car, and to the livery made in a beautiful green color to which particular gold counterpoints, while the typical Ducati red we find it on the Brembo brake calipers.
There are also many carbon details, such as parts specially designed for this version by the Ducati Style Center.
In short, a motorcycle dedicated to collectors and lovers of exclusive motorcycles, all made more engaging by the unique personality of the Diavel.
The Diavel 1260 Lamborghini at a glance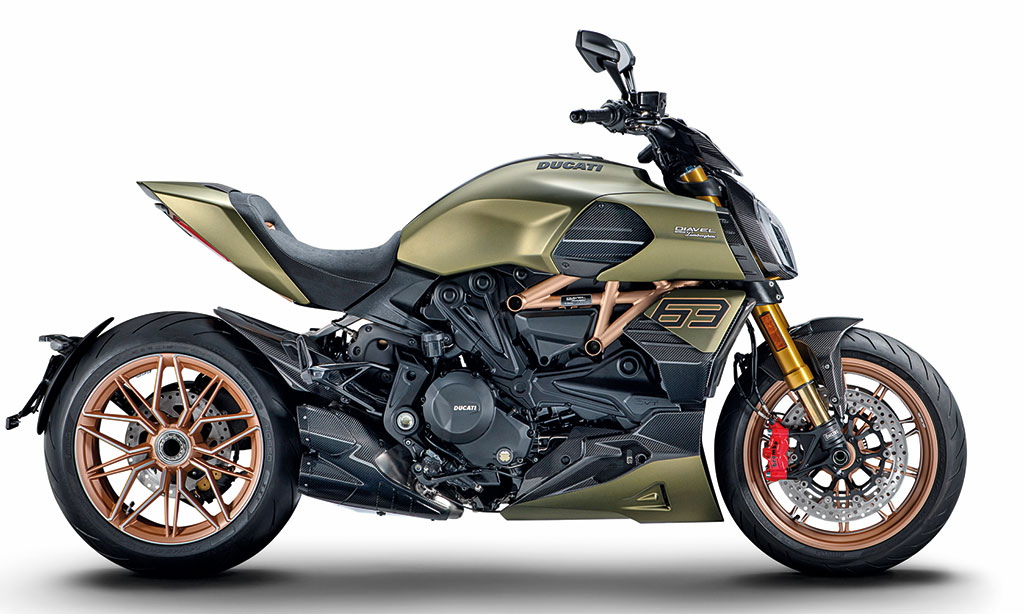 Colors
"Gea Green" with frame and rims forged in "Electrum Gold"
Main equipment
Ducati Testastretta DVT 1262 engine
Brat frame in steel tubes
Aluminium single-arm swingarm
Brembo brakes with 320 mm diameter front discs and M50 monoblock pliers and 265 mm diameter rear disc
Front projector with DRL, LED lighting system
Colour TFT instrumentation
Electronic package with Inertial Measurement Unit 6-axis (6D IMU) Bosch, ABS Cornering Bosch EVO, Ducati Traction Control (DTC) EVO, Ducati Wheelie Control (DWC) EVO, Ducati Power Launch (DPL) EVO, Cruise Control
Öhlins 48 mm diameter fork fully adjustable
Fully adjustable Öhlins shock absorber
Lightweight alloy forged rims with on-view machining
Ducati Quick Shift up & down (DQS) EVO
Ducati Multimedia System (DMS)
Dedicated saddle with insert
Price Diavel 1260 Lamborghini: 31,990 Euro