The Joker's sneer looks at you, but it's not scary. The Ducati style center took inspiration from Batman's villain to draw the Streetfighter's dome, it comes to smile, but it makes the idea of what's in the belly of this bike.
Yet, despite a power that for this segment is scary (208 hp), it is an incredibly docile beast.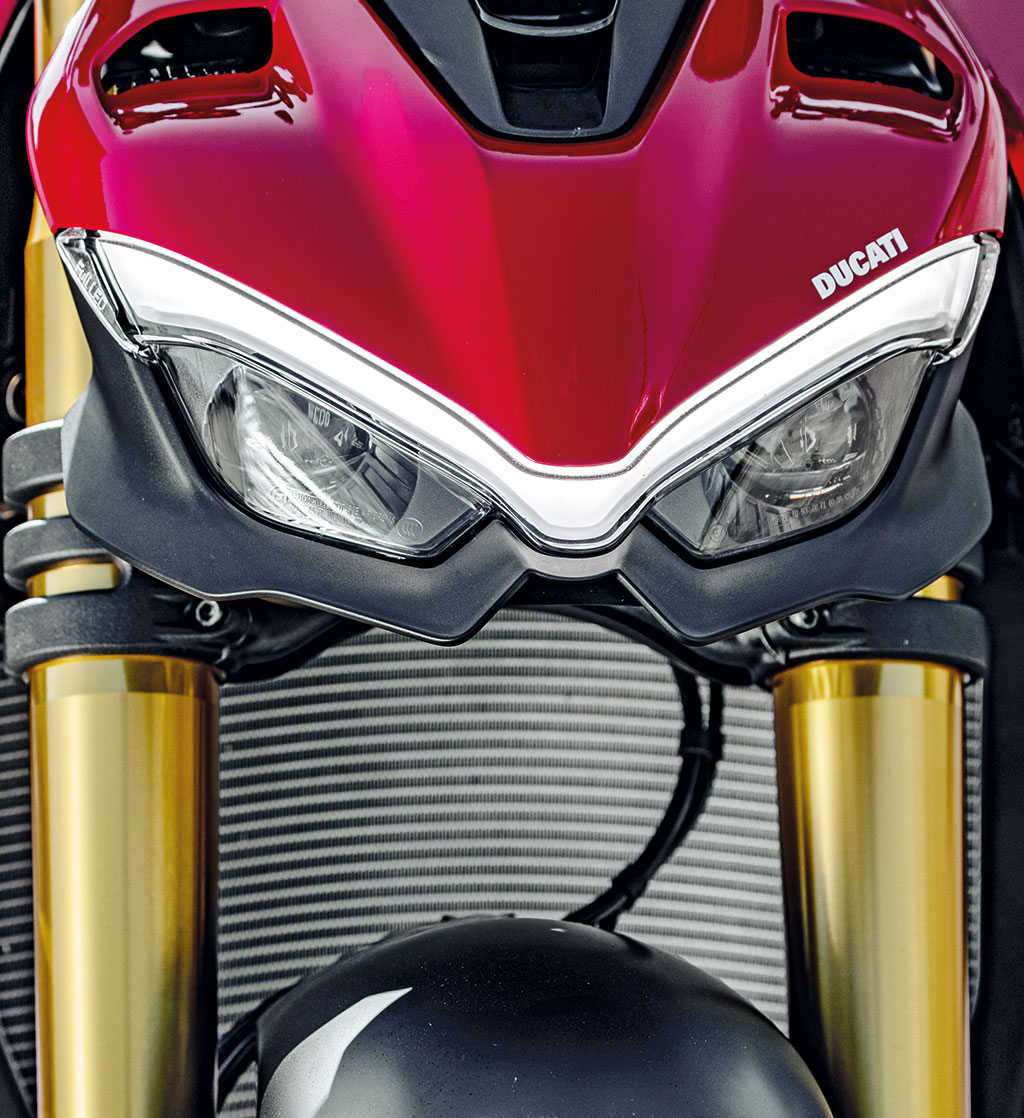 It has nothing to do with the previous Streetfighter.
Technically it is a trivial statement, since that one had the twin-cylinder 1098 engine and this one has the 1103 cc V4, but even before fractionation it is the character that is completely different.
They have the same name and the same philosophy of shooting motion, from burning start to traffic light, but the similarities stop there. Because there are many ways to be bad and this one does it in velvet glove. The other was exuberant, nervous, difficult; I found it very beautiful to drive, but it required craft and even in the most highly treated
version with the 848
engine, born a couple of years later, there remained a bike to hold.
The Streetfighter V4 is not an undressed Panigale
It could really be said that it was a sports car "simply" deprived of the fairing, while with this we are on a different planet; the fairing is not there and the horses are even more, but it would be a mistake to consider it an undressed Panigale V4.
The difference is inelectronics,in engine docility, in cycling, in suspensions that on the more refined S version,the subject of this test, are even the intelligent Öhlins – Öhlins Smart EC (Electronic Control) second generation, if you want the official name –; the difference is also in the general setting. Everywhere.
You notice it as soon as you sit down, because the driving position is completely different from the Panigale V4, the saddle is lower and so are the platforms, while the handlebars are high, wider.
It is a comfortableaccommodation, as is appropriate for a motorcycle that has to go around the street, unlike the supersports that despite being homologated was born to stand among the curbs.
In fact, if you are people driving with some haste, you may find that one of the limits of the Streetfighter used on the circuit is the platforms that come to touch early.
But it was not born for that environment and is the natural consequence of a comfortable position, the usual blanket that you pull on one side, you discover on the other.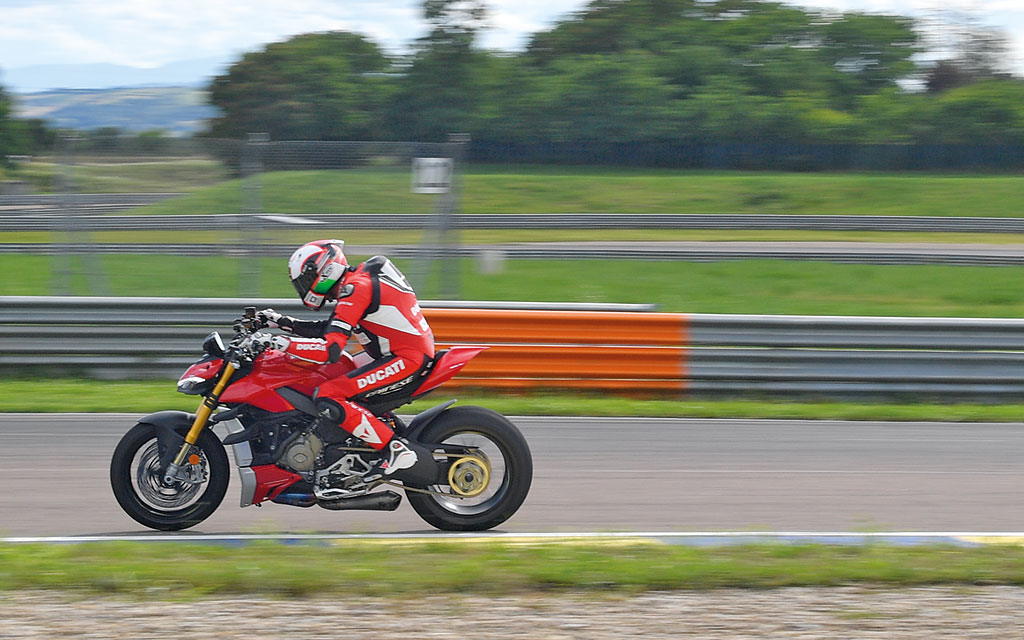 The twin-cylinder Streetfighter had a similar, but less comfortable, setting, but there is no point in making comparisons between two different generations. The sign of the times is in electronics. Today it has reached such levels that it can completely change the character of a motorcycle.
The other, who had little, looked like a 500 two-time Grand Prix, had 155 horses and looked so many also because there was so much couple to put you in trouble; what is more, at high speeds, there was a lack of hull, which instead when there is helps to keep the bike more stable.
On today's Streetfighter there are many more horses, only 8 less than the V4 S, levels almost from MotoGP; but the electronics are very similar and work beautifully, so the bike is not nervous and never puts you in trouble.
The package works using a six-axis inertial platform and includes a long series of controls whose operating parameters are associated by default with the three riding modes available. The beauty is that even with the most extreme of the three, "Race", you can drive in great safety.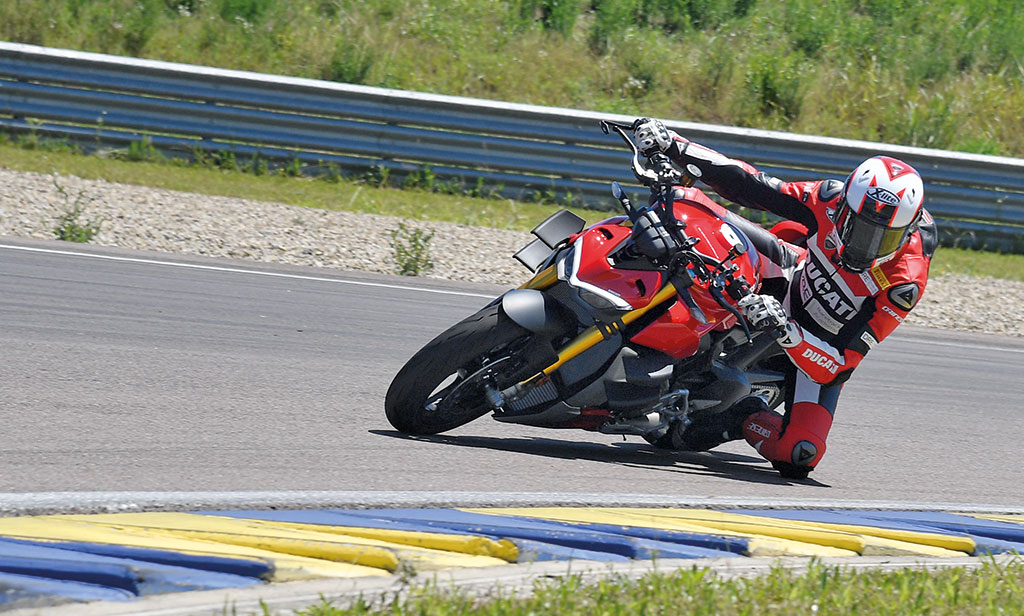 Streetfighter V4 electronics
Streetfighter electronics look like a racing bike, has eight-level adjustable anti wheeling, eight-level adjustable traction control, motor brake and Cornering ABS both adjustable on three levels, and slide control, launch control and electronic suspension; as on all sports Ducati there is as standard the electronic gearbox with the shifter and the blipper, that is, it works both on the climb and on the climb, while the clutch is used only to leave, which moreover has an exemplary operation and perfect synchronicity.
The impression is that Streetfighter's electronics are more controlled than that of Panigale V4.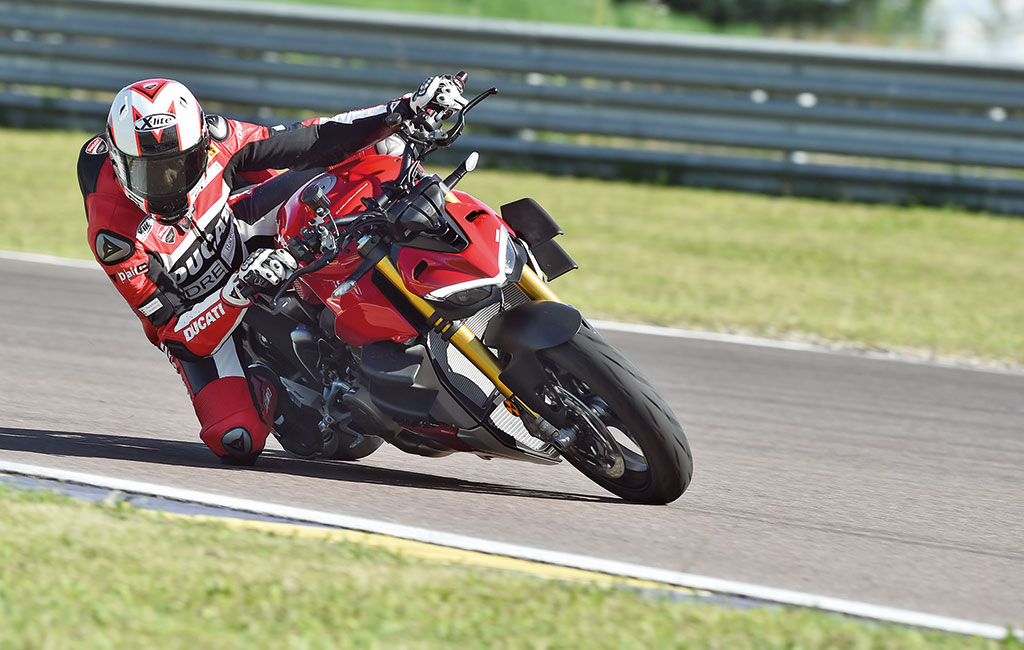 To give an example, with the supersports car it is possible to soar even with the anti wheeling inserted, while with this you have to exclude it totally if you want to raise the wheel; similarly, traction control calibration is slightly more protective, which handles the situation well even when you reach the limit of adherence.
Be careful, however, that "slightly more protective" does not mean scooter: as on the Panigale V4, when traction control comes into action you still continue to make the way, that is, the bike does not "plant", and for those in the mood for experiments the slide control device allows you to determine how much you want to let the wheel slip: if you have a little practice you can draw beautiful black commas on the ground. In short, the Streetfighter is extremely highly treatable even in race mode, the most extreme, I am even more in the Sport and Street configurations, but there is no need to take it under the back because if you spill the gas something happens!
Covers and suspensions
The excellent Pirelli Diablo Rosso Corsa II covers are mounted as standard, roads that adapt well to the track, quickly reach the operating temperature, have a good grip and are very predictable.
An excellent combination with active suspension,which seem taken from the motion of dreams, power of electronics: soft as it takes to have a perfect hole absorption, but in braking and acceleration they harden and give adequate support.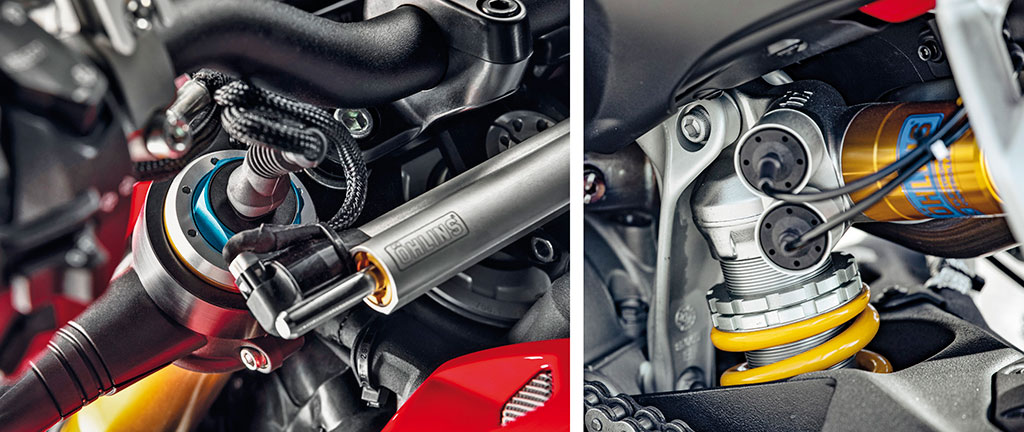 The system works very well and never goes into crisis. In "dynamic" mode it automatically adjusts the calibration moment by moment; the variation curve is determined by the manufacturer and it is not possible to modify it, but it is not even necessary to do it because with the bike in standard configuration it is fine so, it is really a "smart" suspension!
If, on the other hand, you want to intervene on calibration, you have to go into "manual" mode; in this case the parameters can be set to your taste, always by means of electronics, and while driving they remain fixed.
Streetfighter V4's non-frame frame
It is difficult to talk about a real chassis, because, as with other models in the V4 family, the Streetfighter uses the Desmosedici road engine
with carrier function: there is only a front semi-frame called "Front Frame", fixed directly to the upper semi-carter of the front bank and to the head of the V4 rear bank, on the base of which the single-arm swingarm is fulcrato and the rear suspension is fixed; the front frame itself and the head of the rear bank is also fixed to the braided seatpost.
Nowadays it is no longer surprising the idea that the engine is also a chassis and even less notice driving: the result is the right one and that's it.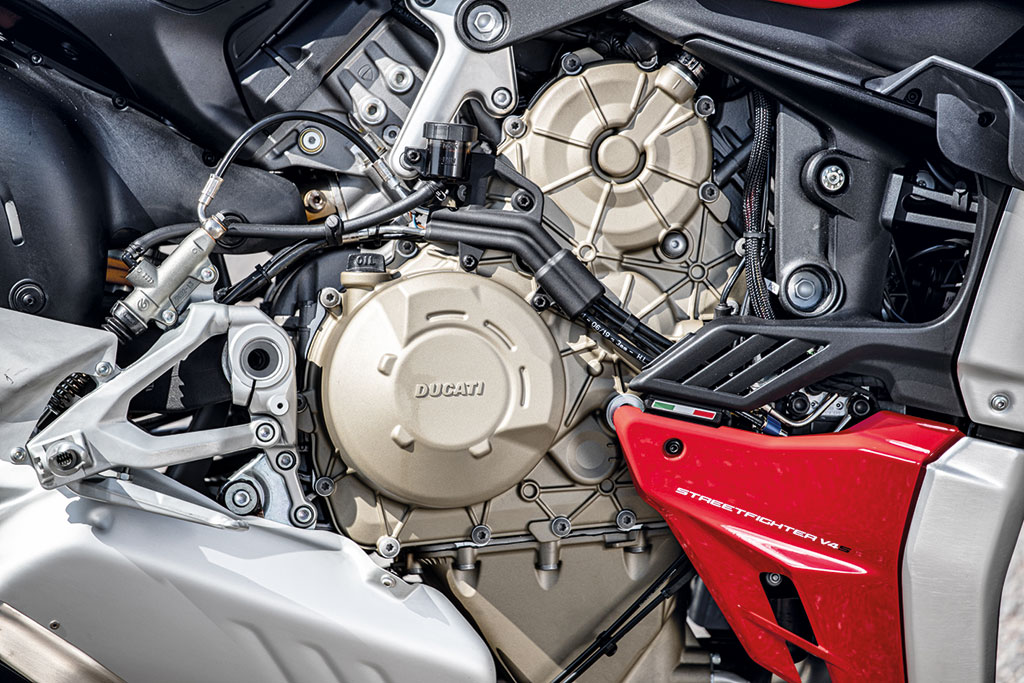 It is an exciting bike, much more accessible than a supersport,and it made me enjoy as it had not been for years precisely because it is easy to use without having to commit to the maximum and still goes very strong.
Very stable at all speeds, it also makes it easy to enter the corner sideways because electronics help you and make those who are not good become good.
Of course, as long as you climb and brake in the right way: going for a walk everything remains quiet, if you arrive a little hanged the controls allow you to make some "numbers", but avoid being in excessive difficulty.
Steering geometry favours stability: 24.5° tilt of the cannotto and 100 mm of advance. In fact, the Streetfighter in the center of the curve has a nice support, it is very precise, sincere and stable, at least up to the speeds reachable in the Modena circuit, where you only get to support the fifth.
Without fairing, stability is normally more at risk, but the impression is that a great deal of work has been done here and that the biplane wings – i.e. two per part – actually contribute to stability: at 270 km/h they guarantee an aerodynamic load of 20 kg on the front wheel and 8 kg on the rear wheel.
Although often the two things are antithesis, it is also satisfactory the handling and it is not difficult to understand why: the wide and high handlebar simplifies everything, makes it easy to close the trajectory and allows you to be fast even in sudden changes of direction, such as that of the "Corkscrew" of Modena; or allows you to move easily and effortlessly even in the intricate situations that can occur in traffic.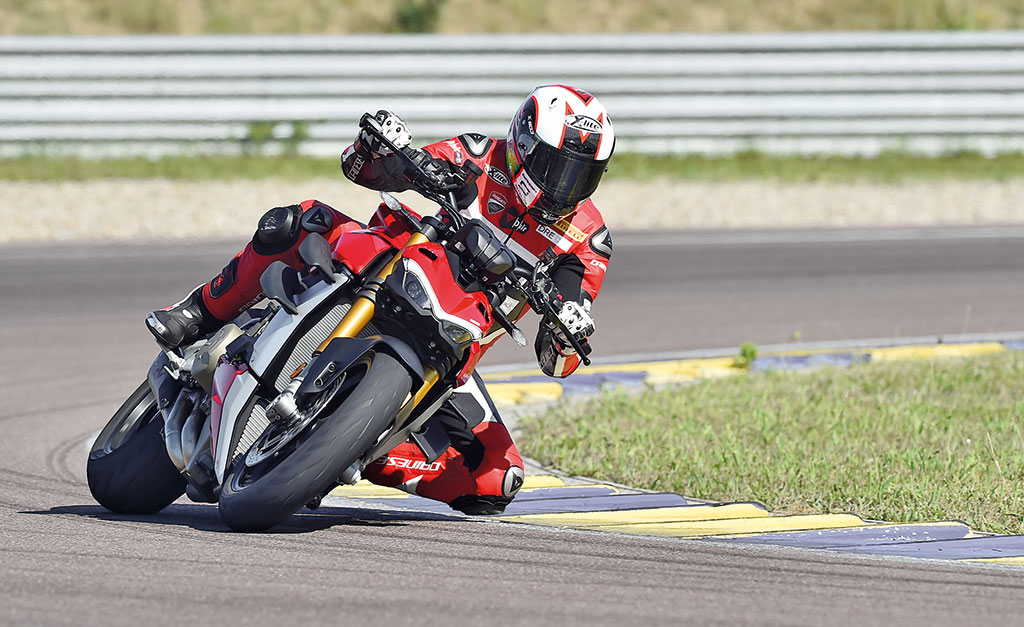 The braking system, it goes without saying, is at the top: in front of two discs of 330 mm in diameter with Brembo Stylema pliers with 4 pistons, the last cry of fashion, while behind there is a 245 mm disc with two-piston calipers: powerful, progressive, lightning fast: what more to ask for? There is also ABS Cornering that avails against sloping motorcycle locks, in case anyone overestimates its "detacher" skills.
What more to ask the engine for?
It is the well-known 90° Ducati four-cylinder V, rotated back 42° to centralize the masses. Its characteristics are very particular because the staggered connecting rod rods of 70 ° determine a Twin Pulse burst sequence, something similar to a twin-cylinder.
So at the bottom the engine is not as empty as a traditional four-cylinder; in fact, already from 3-4000 laps it is full like a twin-cylinder, but in the stretch it seems to never end again. The dispensing is linear and rises evenly, reaches the maximum power speed, 12,750 rpm, and pushes without voltage drops until the limiter intervenes, at 13,500 rpm.
All with a very nice rumble although very silenced, as required by the Euro 4 legislation; alternatively among the optionals there is the Akrapovic racing exhaust that allows you to reach 220 horsepower and 130 Nm saving even 6 kg of weight.
Ducati Streetfighter V4: conclusions
So, in extreme summary, it can be said that in Borgo Panigale they were really good because they managed to put together the bad and exciting soul of the shooting bike with a high level of safety. The strong sensations like those of the first Streetfighter are at hand, indeed you can go even further, but with the tranquility that comes from having the "parachute".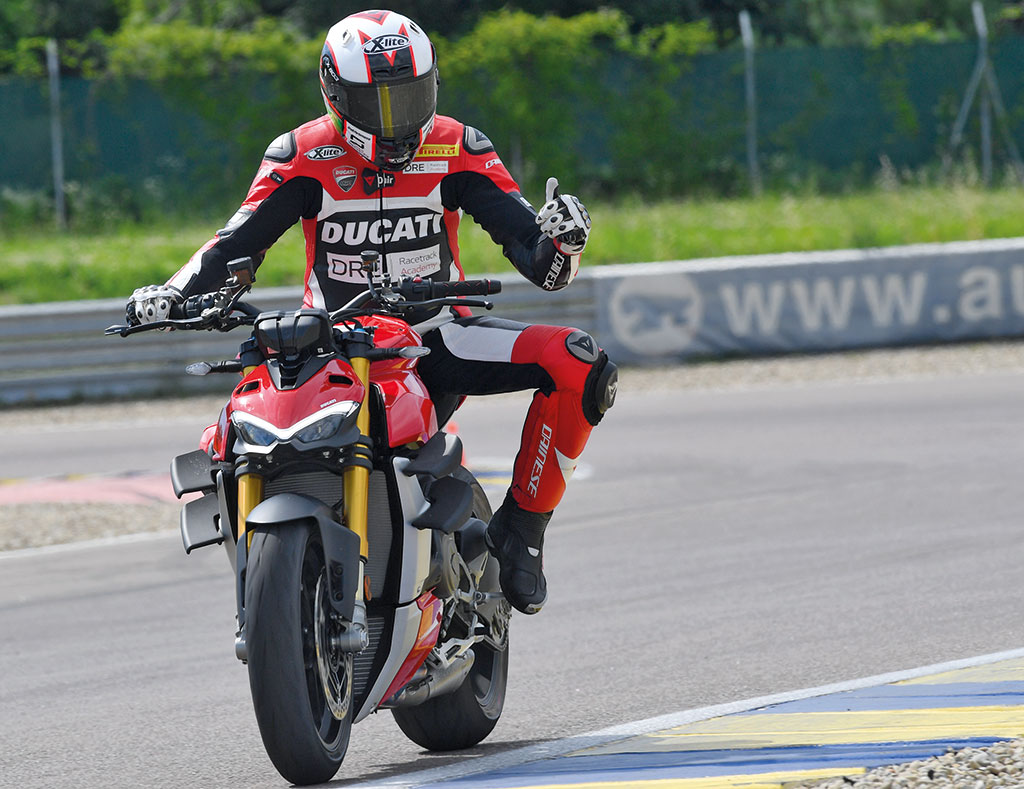 For this reason I would like to say that it is a bike suitable for both beginner and smaliziato riders.
We had the counter-test of a driving class in Adria when we had some newbies test it.
I was not sure that they were comfortable, because however docile, they are still 208 horses; instead those didn't make a turn. On the contrary, they were even thrilled!
Photohouse Photo
The Streetfighter V4 S at a glance

Colors
Ducati Red with dark grey frame and black rims
Main equipment
Motor Desmosedici Stradale, 1103 cc
"Front Frame" frame
16-liter aluminum tank with capacity under the saddle
Ducati Electronic Suspension (DES) EVO
Öhlins NIX-30 fork with Öhlins Smart EC 2.0 control system
Öhlins TTX 36 shock absorber with Öhlins Smart EC 2.0 control system
Öhlins steering shock absorber with Öhlins Smart EC 2.0 control system
Marchesini aluminium forged rims
Brembo Stylema single-block pliers braking system
Pirelli Diablo Rosso Corsa II tyres with 200/60 rear
Biplane-configuration wings
Latest generation electronic package with Inertial Measurement Unit 6-axis (6D IMU): ABS Cornering EVO; Ducati Traction Control (DTC) EVO 2; Ducati Slide Control (DSC); Ducati Wheelie Control (DWC) EVO; Ducati Power Launch (LPG); Ducati Quick Shift up/down (DQS) EVO 2; Engine Brake Control (EBC) EVO
Buttons for quick level change
5″ full-TFT dashboard
Riding Mode (Race, Sport, Street)
Full-LED projector with DRL
Two-seat configuration
Predisposition for Ducati Data Analyser+ GPS (DDA+ GPS) and Ducati Multimedia System (DMS)
Price Streetfighter V4
Euro 22,990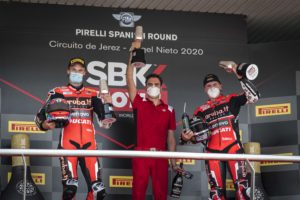 A Jerez de la Frontera, seconda tappa del campionato SBK, si ri-accende lo spettacolo con Ducati protagonista. Doppietta di Redding e secondo posto in gara 2 per Davies.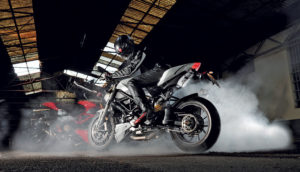 Breve storia di una famiglia di moto Ducati molto particolari, create dall'unione tra sportività, aggressività e comfort.