But i mean, we wondered, what's this SuperSport? A handyman who does everything well, but nothing to perfection? Or is it the total bike, the one with which you are well both in the shooting between the curves and in the journey with passenger?
Moreover, this is his soul, a little controversial, which is also expressed in his image: at first glance, in fact, he has a truly sporty look,with that hull, but above all the dome, which are not a little reminiscent of a Panigale. But then, if you look at it well, you notice how that hull at some point interrupts and therefore does not completely wrap the vehicle; then what to think of that handlebar so high and those platforms so low!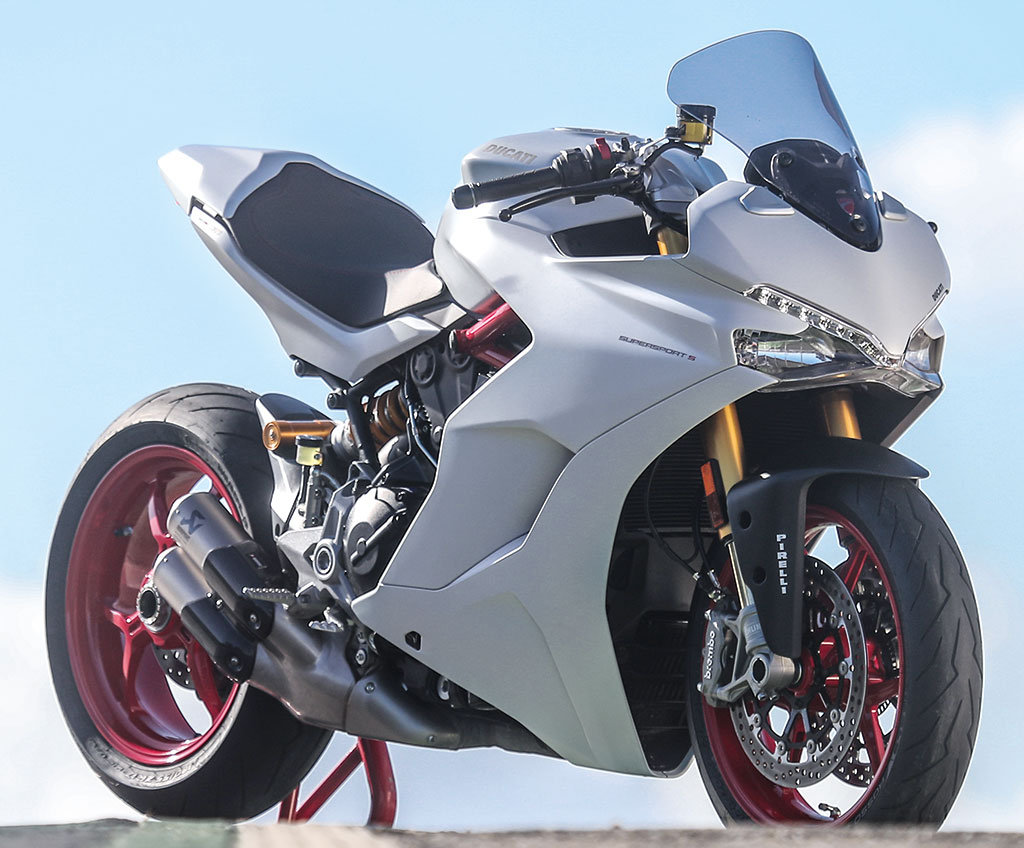 I mean, what kind of SuperSport is this, which audience is it intended for?
Do I buy it because I want to go to the sea in company, comfortable and protected by the wide fairing, or to make two crazy folds in the racetrack taking advantage of the strength of the twin-cylinder engine and the effectiveness of the Öhlins suspension, mounted as standard on the S version,the subject of our test?
But let's go with order, starting from the beginning: from the first contact, once mounted in the saddle, SuperSport immediately gives the impression of being born to travel, on the highway as on mountain routes: it is a comfortablebike, handlebar positioned correctly, perfect ergonomics, you touch easily on the ground.
However, if you move away a little and look at it carefully you have no doubts: it is a sports bike, as it is highlighted by fairing and aggressive lines.
Well, then we have already clarified one aspect: it is a sports bike that does not have a sporty driving position!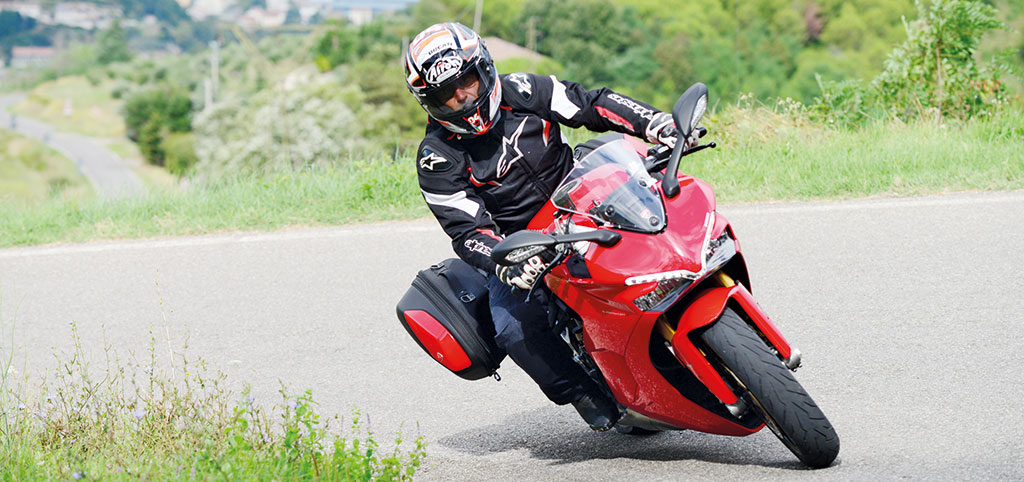 Are we in confusion? No, on the contrary, now everything is clear to us: it is a bike that makes functionality and versatility its best weapons, making us guess how under the sports suit hides a bike suitable for multiple situations.
A really comfortable bike, so much so that if you still had as a reference the previous Supersport designed by Terblanche you would be completely displaced; in fact, it takes a few meters to guess how with her you can do many kilometers without straining your arms and wrists.
But here comes another aspect, just as important, namely the engine. The 937 cc twin cylinder has 110 hp and a lot of torque,a solution with considerable strength that invites the rider to want to take advantage of the bike in fast driving.
After all, it's a Ducati!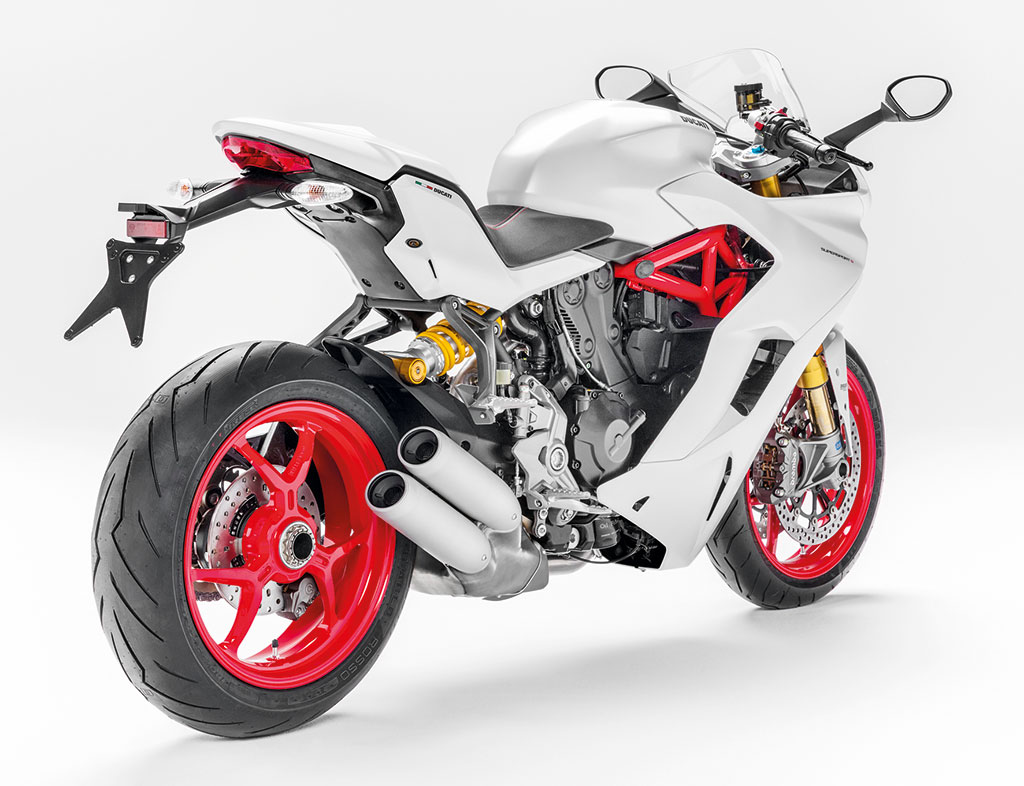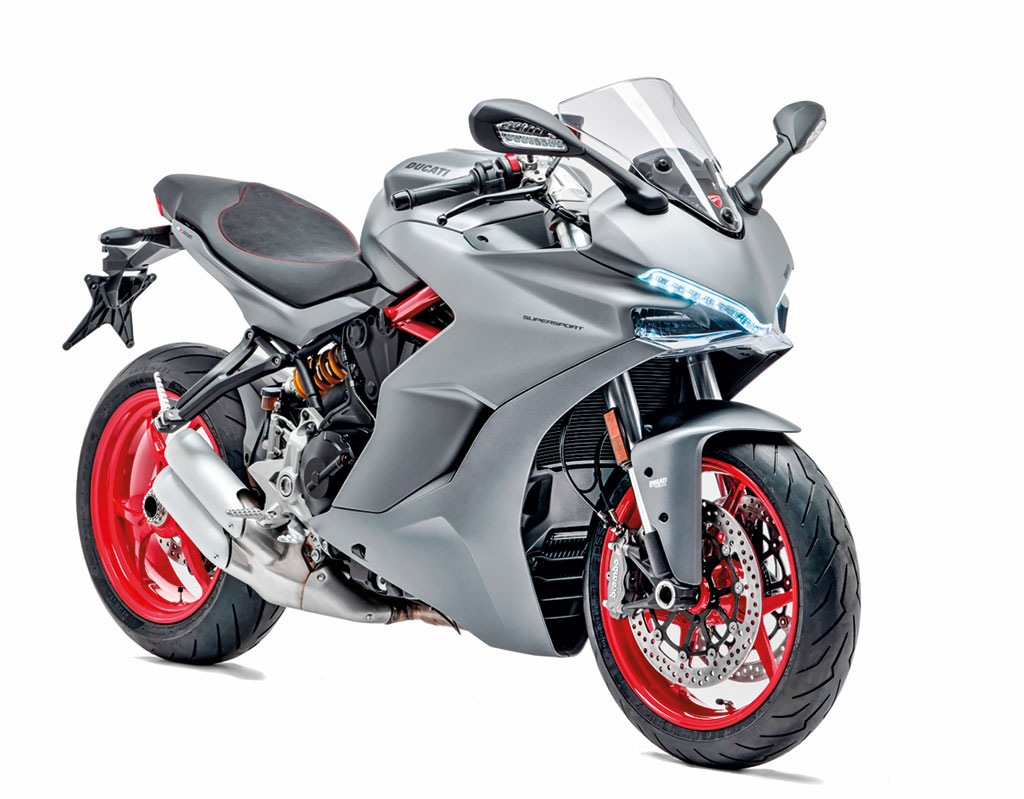 In short, this is a somewhat special proposal, precisely because of its double soul, because of a certain ambiguity that can alienate the motorcyclist who is looking for a certain answer, while here we are on a compromise, pleasant and well done, but always compromised, it is.
Those who evaluate its purchase, therefore, it is good that it is good to make it clear that this bike does not have excellence in its strings in a specific use,but it can do everything at an excellent level: a single bike instead of the two that would serve to take its place.
Not by chance, for our test, we decided to spend a few days riding around the state, even with the passenger, and then ending with a whole day of free practice at Mugello, precisely to highlight its versatility, the ability to be comfortable even in extremely different contexts.
The SuperSport S at a glance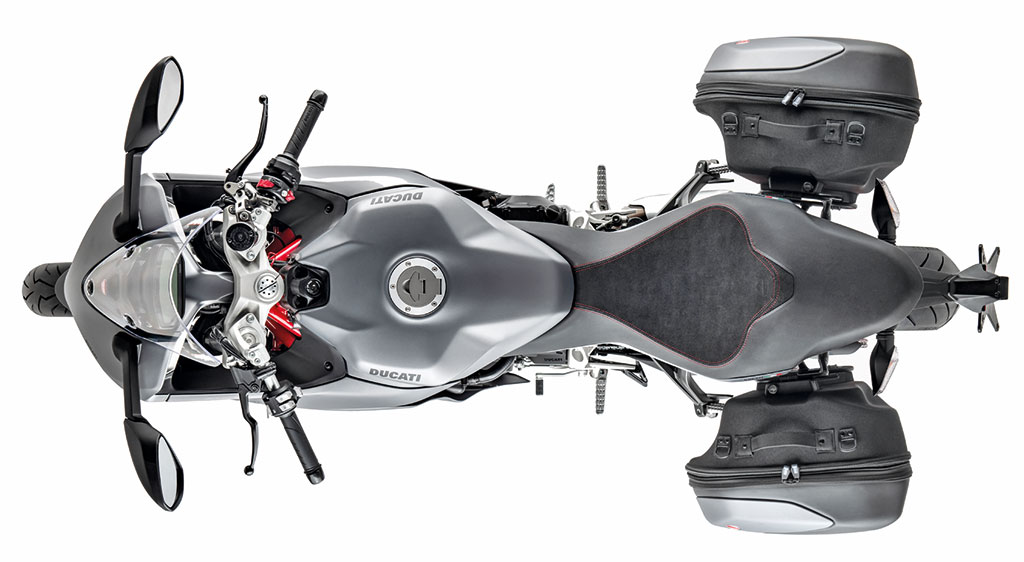 Colors
Star White Silk hull with Ducati red frame and Glossy Red wheel rims
Ducati Red Hull with Ducati Red Frame and Matt Black Wheel Rims
Main equipment
11° 937 cc 113 Hp and 96.7 Nm 11° 11° engine at 6,500 rpm
Euro 4 homologation
2-1-2 exhaust system with lower chair and side silencer with two overlapping outputs
Traliccio frame with carrier function motor
Height-adjustable Plexiglas on two positions with a 50 mm excursion
3-spoke rims with Y-shaped design
Pirelli Diablo Rosso III tyres in sizes 120/70 ZR17 at front and 180/55 ZR17 at rear
Fully adjustable Öhlins fork with 48 mm diameter stems with TiN treatment (specific content version S)
Fully adjustable Öhlins shock absorber (specific content version S)
Brembo front braking system with two 320 mm discs and M4.32 pliers
Brembo PR18/19 radial front brake pump
3 Riding Mode (Sport, Touring, Urban)
Ducati Safety Pack (ABS Bosch + Ducati Traction Control)
Ducati Quick Shift up/down (specific content version S)
LED daytime light projector, Daytime Running Light (DRL)
Full-LCD instrumentation
Waterproof USB socket in the under-saddle
Matching passenger seat cover (specific content version S)
Predisposition for Ducati Multimedia System (DMS)
Ducati Supersport Price
Euro 15.190 (red)
Euro 15.390 (white)
Today the basic model of the SuperSport is available only in titanium grey color, with ducati red wheel frame and rims, at the price of 13,490 Euros, while the depowered version (35 kW) costs 12,490 Euros.
Riding the Ducati SuperSport
So let's get on the road: we immediately notice how the position in the saddle for the passenger is not very suitable for very long journeys,as, especially with bags, it is located a little stuck there, with a portion of the saddle not sufficiently wide and comfortable, just as the position of the handles is not placed in such a way as to allow a relaxed posture.
On the other hand, the possibility of adjusting the plexiglass of the dome is convenient, even if a differently tall pilot like myself did not feel the need to exploit it in all its width.

The bike drives well, it is not very handy,but it holds the trajectorywell, although it requires the rider to set it with a little decision, as was done with the bikes of the past; in short, it takes a body guide to insert it well, after it follows the trajectory faithfully, giving taste and driving satisfaction.
It is a sincere bike, it is not very responsive or absolutely nervous, but it requires a particular driving style, which I like.
The platforms are a bit too low, comfortable for the tour guide, but if the pace increases you struggle to load them; as a result, the weight shift in corners is also more in armchair mode than in sporty driving style.
Excellent suspension: the S, as mentioned, is equipped with an Öhlins fork that offers a practically perfect compromise between hydraulics and spring; in fact, it has the first part of a soft excursion, so that the bike does not break down on the holes or road depressions, while in detached, even fierce, it never gets to the bottom of the race, transmitting a lot of confidence and safety, as does for its part the rear mono.

A package, therefore, that induces a pleasant guide, if we want even quiet, despite the fact that the engine has considerable strength as evidenced by its substantial chivalry, which is exalted in the Touring mapping,a sort of synthesis of the chemistry that is the basis of this SuperSport.
With this riding mode, in fact, the bike is perfect because it does not tear, it is not abrupt, if you insist on the accelerator it has no uncertainty, providing an answer always up to the expectations of those who drive. The torque is always full and substantial: since the 2500 laps the bike resumes quietly, in a way that leaves you pleasantly surprised.
On the contrary,sport mode is not very guessed because it has a scurvy dispensing, which does not give that feeling of aggression that would be expected, so much so that you do not earn anything as a performance, but only as roughness to the response of the gas command.
The electronic gearbox, on the other hand, represents a real problem, in the sense that, once you have tried it, you can no longer do without it!
You get used to it very easily, precisely because it is very convenient; the only uncertainties, with a low number of laps, where perhaps it digests badly a change not really punctual, but it is details, it is an accessory, I repeat, that once you have discovered it is no longer an accessory, but an almost indispensable driving companion!
Its most significant defect, however, is highlighted on the track, in case of detached on the fast, therefore demanding: the change then becomes a little hard, so you have to be very decisive in the operation, also considering the delicacy of the situation! But did we talk about the lead?
Yes, because as mentioned before we brought SuperSport among the mugello curbs: however, rest assured, first we disassembled the bags!
In short, the mode was that of the time, when you arrived on the circuit riding your bike, you disassembled some details just not suitable for the circuit, and then away to start laps on laps!
SuperSport, with its double soul, has brought us back a little to those sensations, allowing us to have a really lot of fun, even if in such a fast and demanding racetrack as mugello.
SuperSport on track at Mugello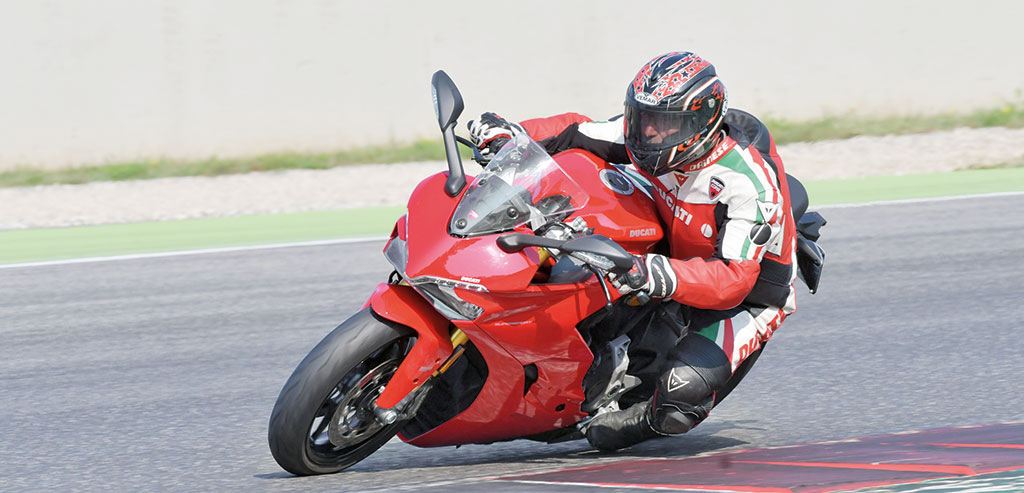 As mentioned, no changes, road tires and so on: apart from the platforms too low, as already mentioned before, the bike is a lot of fun, although it is obvious that you can not make the time, but only enjoy the pleasant situations of driving on the track.
SuperSport in this situation is quite comfortable, also because it certainly does not go easy!
In fact, at the bottom of the main straight of Mugello, which is also uphill, I read the 245 km/h on the dashboard which is certainly not a little!
The whole thing is made even tastier by the fact that the curves are set well, the braking is excellent and the suspension works perfectly.
In short, at this juncture SuperSport surprised me,so much so that a certain curiosity came spontaneously at the thought that with two tires more appropriate to specific use you could …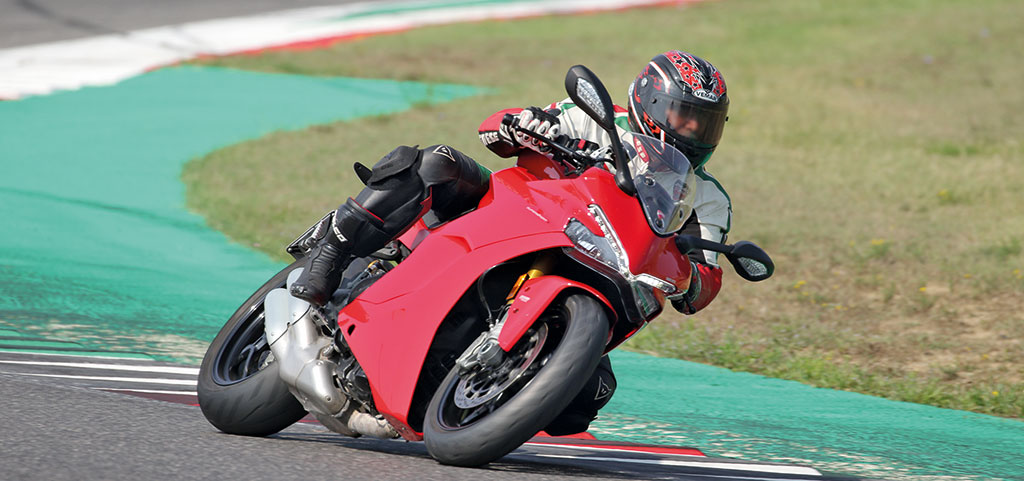 Well, we do not fly too much with imagination, the fact remains that this Ducati is absolutely not out of place in a field of free practice on the track, even alongside other amateurs riding their four-cylinder supersports cars.
In fact, it is surprising that a motorcycle with such a disposition behaves so well on the circuit, even in the absence of any tussling of the bike: of course, in situations of particular support, such as Casanova/Savelli or at Arrabbiata 1 and 2, you haveto be a little careful, but it is still a detail that could notice a very advanced rider or amateur.
As a mapping, in this context, I used Sport,although in a direct comparison with Touring, in the straight, the difference was a few km/h; but certainly with sport the bike responds more readily to the action of gas.
A versatile and complete bike.
But in conclusion, which user could find the ideal bike in SuperSport? I would recommend it to those looking for a motorcycle with a certain image and great versatility, useful for not very long trips, sports driving, but also for daily use.
A complete, honest bike, which certainly suffers, compared to the other models of the Ducati price list, from the failure to update that has affected practically the entire range in recent times.
A fact that is aesthetically evident in the finishing of platforms and supports, including the upper handlebar plate and instrument support, such as the use of non-homogeneous viteria for color or shape.
But there are also more substantial differences with the other Ducatis: just to give an example of an equal displacement, let's
look at the Multistrada 950 S,
which today has a genuinely richer endowment than Supersport.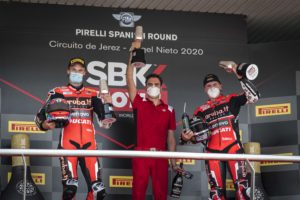 A Jerez de la Frontera, seconda tappa del campionato SBK, si ri-accende lo spettacolo con Ducati protagonista. Doppietta di Redding e secondo posto in gara 2 per Davies.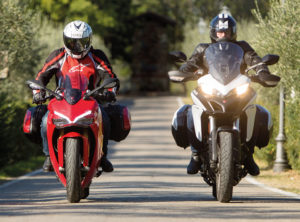 Due moto caratterizzate da un'estrema versatilità: la SuperSport non disdegna i lunghi tragitti, la Multi non delude quando si decide di aprire il gas.
Shall we try to make the list?
The most notable lack is that of the Bosch inertial platform that deprives the motion of a whole series of functions such asAbs Cornering.
But the list is much longer and includes, if we compare the two S versions, hydraulic clutch control, TFT dashboard, full LED projectors, cruise control, electronic suspension and so on.
All this makes it clear that SuperSport is a model on which the Casa di Borgo Panigale decided not to aim anymore, a real shame because, as our test has shown, the bike has truly remarkable versatility characteristics, having proved to be a perfect proposal for the rider who uses his own vehicle in every season and in every condition of use, including the daily one, perhaps moving home / work.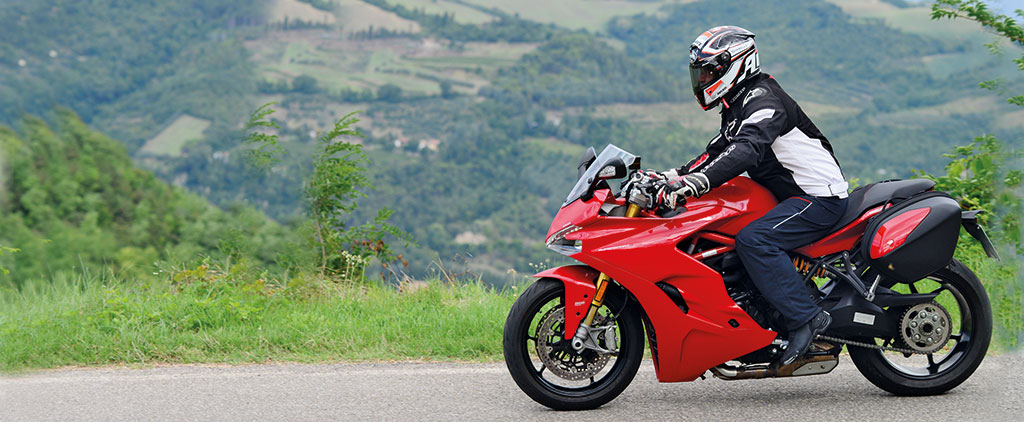 But we know how things are going in this world; if there is no favorable market response, if there is not enough orders it becomes difficult to make further investments.
But even for 2020, SuperSport remains on the list and we are very happy about it, because we have had the opportunity to spend some really pleasant days riding this model that is in the name, but also in substance, worthy heir of a family that has played a fundamental role in Ducati history.
Photos by Giovanni Mengolini, Fotoeventi.com and Ducati Archive