To improve performance on the go, a series of accessories for the Diavel, Multistrada, Supersport and Monster families arrives from Ducati with the aim of making the trip more comfortable and enjoyable.
For the Diavel here is the rear backrest for passenger and the pair of semi-straight side bags, with a capacity of 36 liters in total.
For
multistrada,
which has a very popular use on the journey, here are a series of useful accessories such as large side rigid suitcases (56.6 liters total). They can be combined with tailored fabric interior bags equipped with transport handles. Another useful accessory for the long-haul tourist is the top 48-liter case, which can accommodate two full-face helmets, and is equipped with a quick release system. Extremely useful for long transfers is the Gran Turismo windshield with height and width increased by 35 and 20 mm respectively compared to the standard one.
For SuperSport come the rigid side bags, complete with fixing brackets with quick hook-release system, and the low saddle that allows a reduction in height of -20 mm to favor the support on the ground without sacrificing comfort.
Finally, a great classic, the
Monster!
For him the comfort saddle, higher than 25 mm, made with high density foams and covered with technical fabrics; then the 5-liter pocket tank bag with quick hook system to the tank cap and top pocket for the smartphone. Finally, the passenger handles that offer useful support.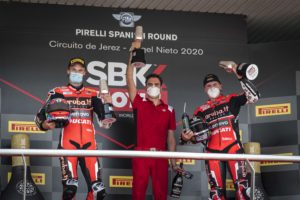 A Jerez de la Frontera, seconda tappa del campionato SBK, si ri-accende lo spettacolo con Ducati protagonista. Doppietta di Redding e secondo posto in gara 2 per Davies.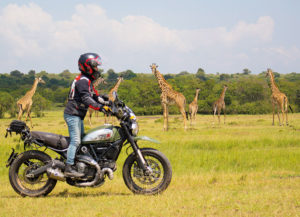 Protagonisti del viaggio, compiuto per raccogliere i fondi destinati all realizzazione di pozzi in Africa, Alicia Sornosa e il suo Urban Enduro.