by Giancarlo Gattelli
Multistrada has always been a breaking bike. I remember when the 1,000came out, seventeen years ago, with the Ducatisti looking at it as a strange contraption with long legs and the slingthing dome (in fact Terblanche's pencil had not drawn a particularly guessed front, imho). However, then (and despite the not particularly right line) it was a model that brought many new Ducatisti to a bike in Borgo Panigale, and also led many ducatisti of long course to appreciate the comfort of high driving and a fun model, cleared, agile but also able to make a couple travel.
The mugugni, even there, there were with theabandonment of the dry clutch with the arrival of the 1100… but the advantages, for those who did many kilometers, in fact there were, and little by little we got used to even a non-rattling Ducati. The time to get used, therefore, to the long legs of the first Multistrada, and here it is that in 2010 came the 1200. For the purists of the first Multi, a bike too big, too heavy, too powerful… actually, when I tried it, I almost got shaken up: it was a huge generational leap. Like chivalry, naughtiness, performance. But also as a type of bike: more comfortable, protective, suitable to travel, while remaining beautiful bad. And the success was there, of course.
When the DVT arrived, five years later, the 1200 was already another success. And what a success. But despite the success, DVT has disgruntled both the purists of terblanche's first Multi (small and light Multi), and those of the 'bad' 1200. Yet DVT made me fall in love at first sight. Bad if you want to pull, it is extremely easy and docile when you want to trot while enjoying the view. But it is also able to withstand dirt and not be regained in the middle of traffic: a real four-motorcycle-in-one.
With the 950 Ducati he then, in my opinion, took another step forward: the intelligent Multistrada. Too much, since it is in fact so good, it is silent, regular since you start it, it consumes little tires and parts … that you don't even feel like you're on a Ducati… or at least as the Duchies of the past were: rioty, a little ignorant, exciting but moody.
What about this Multistrada V4 seen for now only on video?
First of all that again is a DISRUPTIVE Multistrada: no Desmo, no bra frame (only the seatpost, almost a quote), no single arm and two cylinders too. Certainly it seems that it has really been designed and designed for a very demanding biker, who grinds kilometers even in the most dirt places in the world, and who wants to do it in comfort and safety (splendid the display connected with the smartphone for navigation, or the ARAS, as well as excellent maintenance interval at 60,000 km for the main coupons) but that will perhaps leave the Ducatisti most linked to the sporting tradition very dissatisfied … there are many horses, but there is only the version with the 19 front and a 170 behind, instead of the front 17 and the inflatable of the Multi 1200 …
I don't know. Aesthetics, on the other hand, deserves a live view: the impression is that you will soon get used to those lines designed more for functionality than for aesthetics for its own sake.
As far as I'm concerned, my miniMulti, with its 114 twin-cylinder and desmodromic horses, that's enough for me, so I'm going to sleep soundly.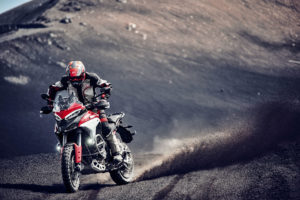 Le prestazioni e la sportività Ducati si uniscono a un comfort di marcia senza precedenti e a una versatilità che le permette di essere efficace in tutte le condizioni di guida